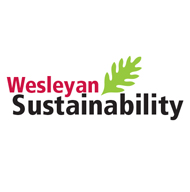 Technology
Wesleyan's ITS department is addressing sustainability and technology across campus:
Our Fleet
In 2007, ITS had a fleet of 4 vehicles: a van, a small station wagon, an electric truck, and an SUV truck.
We have sold the SUV, and plan to replace the van and car with a hybrid and/or another electric truck at some point in the future.
We estimate our fleet now produces approximately 25,000 fewer pounds of CO2 than in 2007.
Double Sided Printing
ITS has installed duplex printing on all black and white printers in computer labs and in the Science and Olin libraries.
Computers in our labs and the libraries have been reconfigured to default to duplex printing.
Purchasing
ITS now considers compliance data from the Green Choice Alliance when evaluating technology purchases.  
All ITS employees and managers have been instructed to include green criteria, including energy usage, source materials and components, and recyclability in their purchasing decision making.
New servers and network components are must meet sustainability criteria.
ITS has committed to purchasing paper with 30% recycled content for its printers in all labs and libraries.
Recycling
All computers and peripherals brought to the Computer Service Center are either reused by other users, stripped for parts, or recycled.
The Wesleyan community is invited to bring e-waste to the Computer Service Center around Earth Day each year for reuse or recycling.
Assessing
ITS has tested a number of computers, peripherals, and monitors for their energy usage to have a baseline of technology energy usage.
This baseline assists us in evaluating the energy use advantages of new and replacement technology.
Thin Clients
ITS is looking at a number of test environments for Thin Clients – terminal like computers that connect to central servers for applications and file storage.
Thin Clients can save significant amounts of energy over standard PC configurations and reduce the amount of heat produced, thereby reducing the amount of AC needed during the summer months.
Virtualization
Virtual machines are being increasingly used to reduce the need to purchase new hardware and to reduce energy usage.
Terminal servers are being employed to give administrative assistants at Wesleyan access to EMS rather than purchasing new hardware.
Permission of Instructor and Pre-Requisite Override forms are now electronically submitted rather than with paper.
Energy Management
ITS has implemented power management controls for PCs throughout campus. This has resulted in considerable energy reduction and cost savings.
ITS is also investing in sophisticated timers that will turn classroom technology on and off when not in use and will be remotely managed.
Rideboard
ITS has developed Rideboard, available in Portfolio, for all members of the Wesleyan community to use.
Users can submit rides, or submit requests for rides to Wesleyan or departing from Wesleyan.
Cardinal Technology Center
Sells only recycled paper
Offers external hard drives with minimal packaging and green components
Recycles ink cartridges, batteries and light bulbs
Offers EPEAT Gold monitors for sale
Urges staff to walk to service calls instead of using vehicles
Highlights sustainable products in a green sales display
Wesleyan Station (Post Office)
Students receive emails when they have packages rather than a piece of paper in their mail box.
Shelving for boxes and recycling bins in Usdan basement for boxes encourage reuse and recycling.