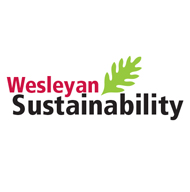 Earth Month 2013
The complete list of Earth Month activities at Wesleyan and in the greater Middletown area for April 2013.
Thursday, April 4
9:45 AM - 7:15 PM

6th Annual Global Environmental Sustainability Symposium: Transportation, Human Mobility, and Sustainability
Central Connecticut State University, New Britain

12:00 - 1:00 PM

Waste: Uncertainty, Futurity, and Democratic Engagement
Woodhead Lounge

Luncheon discussion with Myra Hird, Professor and Queen's National Scholar in the School of Environmental Studies at Queen's University, Canada. Professor Hird will discuss her research team's latest work on waste flow management, "Waste, Landfills, and Ethic of Environmental Vulnerability." This event is sponsored by the Science in Society Program.

Saturday, April 6
9:30 AM - 3:00 PM

Connecticut Chapter of the American Chestnut Foundation Annual Meeting
DeKoven House, 27 Washington St., Middletown
To register please contact Kendra Gurney at kendra@acf.org or (802) 951-6771 x1350.

Forestry consultant Starling Childs and botanist Dr. Leila Pinchot will discuss research and reforestation of the American Chestnut in Connecticut. A tour of Middletown's Chestnut Orchard near Higby Reservoir will follow, so please dress for the field. Lunch will be provided for those who register by Friday, March 29, 2013.

12:00 - 4:00 PM

WILD Wes Work Day
West College Courtyard

Join WILD Wes to plant the understory berry bushes and herbaceous plantings for the Edible Forest Garden.

Monday, April 8 - Sunday April 14
Multiple Times
Yale Environmental Film Festival
Multiple Locations, Yale University, New Haven
Tuesday, April 9
4:30 - 7:30 PM

Seth and May
Daniel Family Commons, Usdan University Center
Free! (Limited Seating available) RSVP to Valerie Marinelli by April 3rd.

Michigan-based folk musicians and environmental activists Samuel Seth Bernard and May Erlewine will participate in a performance and conversation over a vegan dinner for Wesleyan students, faculty and staff. Bernard and Erlewine have been perennial attractions at the Earthwork Collective farm's annual Harvest Gathering, a music festival devoted to local independent artists and responsible, earth-friendly activism. A Music & Public Life and Earth Month event presented by the College of the Environment. 

Wednesday, April 10
6:30 PM

Raising Backyard Chickens
Russell Library, 123 Broad St.

Dr. Michael J. Darre, Professor of Animal Science and Extension Poultry Specialist for the University of Connecticut, will explain the basics of small flock care.  Dr. Darre's presentation will include choosing, housing, and feeding chickens.  Basic health issues will also be covered. Anyone interested in keeping backyard chickens, or wanting to learn more about their backyard chickens is invited to attend.

Saturday, April 13
6:00 PM

Wesleyan-Middletown Food System "State of the Union" and Potluck
Earth House, 159 High St.

Tremendous work is underway around campus and in Middletown that directly engages our campus-local food system. The last two years have been especially exciting times as new student projects have taken root and quickly built momentum with the establishment of a vibrant Local Co-op, rejuvenation of Long Lane Farm, signing of the Real Food Campus Commitment, dedication of the WILD Wes Courtyard, planting of new Middletown Urban Gardens, the continued work of Food Not Bombs, Housing and Hunger, and many other groups. Join WesFRESH (Wesleyan Students for Real, Ethical, Sustainable Habits) for a potluck and open discussion on the food system at Wesleyan and Middletown.

Tuesday, April 16
8:00 PM

Split Estate Screening and Fracking Discussion
Downey House 113, 294 High St.

Climate Ambassadors, Wesleyan's climate justice student group, is hosting a screening of Split Estate, followed by a discussion with State Representative Matt Lesser and Ariana Shapiro, an activist who has been intimately involved in the anti-fracking fight in upstate New York. Come learn about and discuss the issues of hydro-fracking on state and national scales.

Thursday, April 18
12:00 - 2:00 PM

Caelum Massicotte, Healthy Eating Specialist
Cromwell Belden Public Library, 39 West St., Cromwell

Mr. Massicotte will be providing samples of sustainable, healthy foods in honor of Earth Day.

4:15 PM

Green English: Nature and the Literary Humanities
Downey House 113, 294 High St.

The English Department of Wesleyan University presents a panel discussion in honor of the works and career of William Stowe.  The panel will be chaired by Bill Stowe, Professor of English and Environmental Studies.  Presenters are Lois Brown, Professor of English and African American Studies, Stephanie Weiner, Associate Professor of English, and Courtney Weiss Smith, Assistant Professor of English.

Friday, April 19 - Sunday, April 21
Friday & Saturday: 
9:30 AM - 3:30 PM
Sunday:
11:00 AM - 3:00 PM

Connecticut River Coastal Conservation District Annual Plant Sale
Old Saybrook Shopping Center (Stop & Shop Plaza), Boston Post Rd. and Elm St., Old Saybrook

Arrive early for the best selection! The CT River Coastal Conservation District is excited to have a new focus this year: plants that attract pollinators.  The sale will also feature rain garden and edible landscaping plants, fruit producing shrubs, organic compost, and the "Buffer in a Bag" packet of 20 plants that enhance habitat and protect water quality.

Friday, April 19
11:00 AM - 2:00 PM

Wesleyan Farmers' Market
Usdan Huss Courtyard

Support your Middletown-area farmers and artisans!

12:00 - 5:00 PM
Recycled Art Competition
Usdan Huss Courtyard (Rain Location: Usdan Lobby)
6:00 - 9:30 PM

Wild and Scenic Film Festival
West Hartford Town Hall, 50 South Main St., West Hartford
Adults: $15 in advance, $20 at the door; Kids under 12: $5 in advance, $10 at the door.

The Connecticut Sierra Club and REI bring you the Wild & Scenic Film Festival, a series of 13 films from adventure to inspiring activism.

Saturday, April 20
10:00 AM - 2:00 PM
Long Lane Organic Farm Workday
Long Lane Farm, 3 Long Lane
12:00 - 4:00 PM

WILD Wes Work Day
West College Courtyard

Join WILD Wes to plant the understory berry bushes and herbaceous plantings for the Edible Forest Garden.

11:00 AM & 1:00 PM

MAGITRICITY with Cyril May
Smart Living Center, 297 Boston Post Rd., Orange

Enjoy Cyril May's new magic show on energy and climate change at the Smart Living Center's Earth Day Celebration.

2:00 - 4:00 PM

Earth Day Garden Workday
Butterfields Courtyard, 50 Lawn Ave.

Join Butterfields Earth Hall in planting a new permaculture garden in honor of Earth Day!

Sunday, April 21
11:30 AM
Earth Day 5K
Long Lane Farm, 3 Long Lane
Contact Aletta Brady to sign up.
1:00 PM

Earth Fest
Foss Hill (Rain Location: Beckham Hall)

Join your friends to celebrate the Earth with music, food, and a skill share!

7:00 PM

350.org's "Do The Math" Movie Screening
PAC 001

Sponsored by EON.

Monday, April 22
11:00 AM - 1:00 PM

"Rethinking How Money Works: Monetary Reform as a Catalyst for Sustainability"
Chapman Hall, Room 808, Middlesex Community College, 100 Training Hill Rd., Middletown
Facilitated by Justin Good and Michael Harris in partnership with the Middlesex Community College Sustainability Committee and Wesleyan Sustainability Office.

A workshop on monetary reform, community credit systems and local money as tools for addressing unemployment, social and economic justice and community development.  This workshop will offer an overview of the current monetary reform effort, with a focus on complementary currencies or local community-issued credit systems as catalysts for sustainable development. The session will feature a demonstration of Connecticut Sound Shares, a local community currency system currently operating in the Middlesex area.

4:15 PM

"Treading Lightly on the Earth: the Practice of Plenitude"
Earth Day Speaker Juliet Schor '75, Professor of Sociology at Boston College
Public Affairs Center 001, 238 Church St.
Free and open to the public. To reserve a seat, email Valerie Marinelli by April 17th.

The combination of climate and environmental threats and economic dysfunction has accelerated the search for alternative ways of living. In this talk Professor Schor will discuss the emergence of "plenitude," a set of new practices, networks and ways of living that emphasize eco and carbon footprint reduction, sharing, self-provisioning, and reduced engagement with the "Business As Usual" economy. Schor will draw on research from a series of case studies across a range of places and communities.

Tuesday, April 23
6:00 - 8:00 PM

Jonah Center Dinner & Conversation
Typhoon Restaurant, 360 Main St.
$45 per person (includes $25 tax deductible donation; for reservations, call (860) 398-3771.

This fundraising dinner for the Jonah Center for Earth and Art will feature a Thai buffet and discussion on future bike paths in Middletown and Portland, historic dams, river access, and other Jonah Center initiatives.

Wednesday, April 24
11:00 AM - 2:00 PM

Wesleyan Farmers' Market
Usdan Huss Courtyard

Support your Middletown-area farmers and artisans!

4:00 - 5:00 PM

SAGES/EON Think Tank: How do we reduce Wesleyan's carbon footprint?
Usdan 110

Join Sustainability Advisory Group for Environmental Stewardship (SAGES) and Environmental Organizers Network (EON) members to discuss what steps Wesleyan can take over the coming year to reduce its carbon footprint.

Thursday, April 25
12:00 - 1:00 PM

Sustainability Office Hours
Usdan 1st Floor

Come talk sustainability with Wesleyan's sustainability coordinator, Jen Kleindienst.

4:15 PM
Brian Stewart's 6th Annual "Earth Week Rant"
Science Center 58
Refreshments will be served.
4:00 - 5:30 PM

Mountaintop Removal and Environmental Justice Lecture and Talk-Back
Earth House, 159 High St.

Earth House and the College of the Environment Fellows Prof. Michael Dorsey and Prof. Bill Johnston will be discussing mountaintop removal and social justice.  Free dinner from Udupi vegetarian Indian restaurant will be provided following the talk.
6:30 - 9:30 PM

Mountaintop Removal (MTR) Awareness Festival
Foss Hill (Rain Location: Beckham Hall)

Foss Hill will be alive with drums, banjos, guitars, voices, ritualized nature art, fire, and resounding cries for justice from and for Appalachia. Wesleyan's MTR Awareness crew will use these media to raise awareness about environmental and social destruction in coalfield communities from the practice of Mountaintop Removal (MTR) mining, as well as the dedicated movement to resist these forces.

The Festival will include:

Guest speaker Colin Bennett from 350.org (350CT) and organizer of Mountain Justice
Morgan O'Kane--virtuoso banjo player, shouter and activist from Virginia, now based in New York City, whose live performances are sure to bring stomps, whooops, shakes and smiles

6:00 PM
"Get Down to Earth" UCAB Flag Football Tournament
Meet at Usdan
Friday, April 26
11:30 AM - 1:30 PM

Residential Waste Audit
Fayerweather Lawn

Sustainability Staff and Interns will be sorting residential trash and recycling to find out how we can reduce our waste.

2:00 PM
Arbor Day Tree Planting
Wadsworth/Kerste deBoer Arboretum, Long Lane
5:00 - 8:00 PM
NESCAC Environmental Action Conference
TBD

Earth Day Veg Out and Movie

Sponsored by WesFRESH

Saturday, April 27
9:00 AM - 8:00 PM
NESCAC Environmental Action Conference
9:00 - 11:00 AM
Free Shredding and Recycling Day
Water Department, 82 Berlin St., Middletown
9:00 AM - 1:00 PM
North End Pride Day
Multiple Locations, North End, Middletown


Join a celebration of North End Pride with cleanup and beautification projects all over the North End. Pride Day is about more than Spring cleaning. It is about getting  residents, local businesses, and friends of the North End outside together working on common goals and building relationships. Projects include:

Spring cleaning, Alondra Hernandez Memorial Garden, Portland St.
Spring cleaning and building raised beds, Ferry Street Garden
Spring cleaning, Erin Street Garden
Donovan Park improvements, Stack St. and Pease Ave.
Block by block clean-up

To sign up to volunteer, call the NEAT office at (860) 346-4845.
9:00 AM - 2:30 PM
Bike Walk Summit
Yale University, 63 High St., New Haven
Advance registration required.
10:00 AM - 2:00 PM
Long Lane Organic Farm Workday
Long Lane Farm, 3 Long Lane
12:00 - 4:00 PM

WILD Wes Work Day
West College Courtyard

Join WILD Wes to plant the understory berry bushes and herbaceous plantings for the Edible Forest Garden.

7:30 - 10:00 PM

LIFE: A Journey Through Time
Hartford Symphony Orchestra, 100 Pearl St., Hartford
$35 per person; for tickets call (860) 244-2999.

Multimedia extravaganza featuring photographs from National Geographic photographer Frans Lanting and music from Philip Glass. An onstage conversation about conservation and our environment will accompany the concert.

Sunday, April 28
9:00 - 11:00 AM
NESCAC Environmental Action Conference
Tuesday, April 30
7:00 - 8:30 PM

The Future of Zero Waste: A Presentation and Panel Discussion
Room 112, 41 Wyllys Ave.

Zero Waste is a new perspective that holds that it is possible to reduce, reuse, recycle and compost enough that we no longer send anything to landfills and incinerators. Come to learn what Zero Waste means, if it's really possible, and about current attempts to increase recycling and reduce waste on campus, in Middletown, and across the state.

Panelists include:

Abe Scarr - Director, ConnPIRG
Kim O'Rourke - Recycling Coordinator, Town of Middletown
Jen Kleindienst - Sustainability Coordinator, Wesleyan
Students from WesCompost and Wesleyan Food Rescue

Thursday, May 2
7:30 PM

Sustainability Poetry Slam: Performance and Workshop with Laura Lamm Lavoy Brown
West College Courtyard

Co-sponsored by WeSlam, WILD Wes, and the Sustainability Interns.