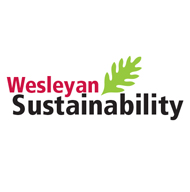 Engagement and Events
The Wesleyan Sustainability Office is leading many efforts to engage students, employees, and the Middletown community around sustainability issues.
Recent Sustainability Office projects have included:
Do It in the Dark (DIITD) is an energy competition run by the Sustainability Interns.  Each semester, one woodframe and one program house that has used the least energy will win a great prize!  Since 2013, in partnership with Wes to Wes, all residential energy savings go directly to financial aid.

In February 2014, Sustainability Interns led a new DIITD contest: "28 Days, 28 Ways to Save" to challenge the campus to save energy. 

Do It in the Dark

86 A & B Lawn Avenue won the Fall 2013 DIITD woodframe contest.

JouleBug Competition

Wesleyan held two JouleBug contests, which raised sustainability awareness and got Wesleyan students excited about every day sustainable actions.  In the fall competition, there were over 20 teams representing 80 individuals and more than 15 individuals who racked up more than 1000 points, gaining them top standing on the national JouleBug leader board. Perhaps more than the extraordinary performance of our top leaders, there were more than 55 individuals who buzzed more than 100 points!  Prizes were awarded to the top two teams, most-improved team, top individual scorer, and two best pictures. 

The Sustainability Office, Center for the Arts' Feet to the Fire Initiative, the Patricelli Center for Social Entrepreneurship, and the College of the Environment co-sponsored a student competition to design a mobile water station in the 2012-3 academic year, to be used at Reunion & Commencement, Homecoming/Family Weekend, and other outdoor events. Teams collaborated with faculty, staff, alumni, and the Wesleyan Machine Shop to ensure that designs were buildable, functional, and aesthetically pleasing.  A judging panel chose the winning team's design, The Wishing Well, which debuted at R&C 2013 and is now used at nearly all outdoor events.  Team members Mads O'Brien '16, Nina Gerona '15, Brent Packer '15, and Tavo True-Alcalá '15 were honored with a $1,000 prize at an award ceremony in May 2013.

Water Station Design Competition

Team Wishing Well (from left): Nina Gerona '15, Jen Kleindienst (Sustainability Coordinator), Bruce Strickland (Machine Shop), Tavo True-Alcala '15, Dave Strickland (Machine Shop), Brent Packer '15, and Madeleine O'Brien '16

Earth Month

Earth Fest
April 21, 2013

Wesleyan celebrated its second annual Earth Month in 2014, with events hosted by student groups, academic departments, the Sustainability Office, and community organizations.  View the schedules from 2014 and 2013.

 

Sustainability Office Interns and volunteers completed the first residential waste audit during Earth Month 2013.  The audit revealed that 69% of what ended up in trash bins is recyclable, compostable, or reusable. 

Waste Audit

Foss Hill Waste Audit
April 26, 2013

Sustainable Reunion & Commencement

The Wishing Well at Commencement
May 26, 2013

Wesleyan's first-ever sustainable Reunion & Commencement included waste sorting stations at the All-College picnic, which diverted approximately 87% of waste from the incinerator through food donation, composting, and recycling.  The Wishing Well water stations debuted at R&C, providing water in recyclable cups and reusable bottles to all R&C guests.  Approximately 500 reusable bottles, left under chairs at R&C, have been washed and will be reused at R&C and other future events.

Read the Hartford Business Journal's coverage of Wesleyan's sustainable commencement efforts.