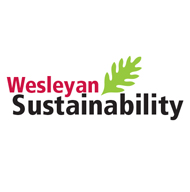 JouleBug @ Wesleyan
Wesleyan is engaging in an exciting collaboration with JouleBug, an IT company that uses a social networking app to help develop a culture of sustainability.  The first phase of this collaboration will begin with a campus-wide contest led by Professor Mary Alice Haddad's Environmental Politics and Democratization seminar (GOVT/EAST/ENVS 304) in conjunction with the Wesleyan Sustainability Office. The contest is designed to help the Wesleyan community have fun while also increasing awareness of sustainable actions. All residential energy savings generated through JouleBug efforts will result in dollar-for-dollar contributions to financial aid. 
The contest will run from Monday Nov. 11th through Sunday November 24th. Teams must be created by midnight on November 10 and can be made up of anyone from the Wesleyan community. Team captains can sign their teams up here. Individuals can also participate without a team just by getting the JouleBug app and using it on campus.  JouleBug is available for Apple/Android devices and as a desktop download in iTunes. 
Professor Haddad's class will be hosting a kick-off dinner with pizza on November 11th in the College of the Environment from 6-8pm. They will also have a clothing swap event on Thursday November 21st from 3-5 in Usdan. More details are forthcoming on the final celebration, which will be during reading period. Potential prizes for the competition include Middletown Cash, massages and care packages during reading week, and a Spring Fling guest pass.  For up-to-date information, follow Wes JouleBug on Facebook.
In addition to having fun with sustainability, Professor Haddad's class will also be gathering as much data as they can about how the Wesleyan community responds to the JouleBug campaign. To the extent possible, they will also study how well the self-reported data on JouleBug corresponds with actual changes in behavior. For example, if there are hundreds of JouleBug participants claiming to be reading their assignments digitally and not printing, there should be a corresponding drop in the number of pages printed on network printers. Any individual-level data that is collected will be anonymized, so no personal information will be used during the data analysis.
The contest this fall will be a first step in what Professor Haddad's class and the Wesleyan Sustainability Office hope will become an ongoing and successful collaboration to improve Wesleyan's sustainability and generate increased money for financial aid.