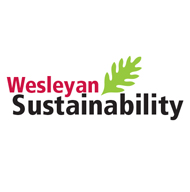 Wesleyan Water Station Design Competition
Team Wishing Well (from left): Nina Gerona '15, Jen Kleindienst (Sustainability Coordinator), Bruce Strickland (Machine Shop), Tavo True-Alcala '15, Dave Strickland (Machine Shop), Brent Packer '15, and Madeleine O'Brien '16
As a part of its commitment to becoming a bottled water-free campus, Wesleyan University is continually seeking alternatives to hydrate the campus community.  The Sustainability Office, Center for the Arts' Feet to the Fire Initiative, the Patricelli Center for Social Entrepreneurship, and the College of the Environment co-sponsored a student competition to design a mobile water station in the 2012-3 academic year, which will be used at Reunion & Commencement, Homecoming/Family Weekend, and other outdoor events.
For the competition, student teams created designs for Wesleyan's own water station.  Contest participants could work individually or in teams to develop designs for the water stations, following guidelines to ensure that the finished product would meet Wesleyan's needs.  Students had the opportunity to consult with faculty, staff, and alumni to receive guidance as they created their designs.  The competition had two phases.  During the first phase, students created rough drawings of their water stations.  A panel of faculty, staff, and administrative judges evaluated drawings based on functionality, practicality, creativity, and buildability and offered suggestions for improvement.  Promising design submissions proceeded to Phase II.
Phase II teams elaborated on their initial designs, noting necessary materials and parts.  Teams worked closely with the Wesleyan Machine Shop to ensure that their designs were buildable.  A judging panel chose the winning team's design, The Wishing Well, which was built by the Machine Shop.  Team members freshman Mads O'Brien and sophomores Nina Gerona, Brent Packer, and Tavo True-Alcalá collaborated with the Machine Shop and the Center for the Arts on their design and developing signage.  The team members were honored with a $1,000 prize at an award ceremony on May 8, 2013. 
Competition Timeline
Establish Teams
Deadline: Friday, October 5, 2012
Form teams of 1-5 students.  Each team will be paired with an advisor.
Phase I
Submission Deadline: Sunday, November 18, 2012
Students will create rough drawings, complete with dimensions and descriptions of mechanics and function.  Students should specify any needed materials and provide rough cost estimates for construction.  A judging panel will evaluate all submitted designs and choose finalists to proceed to Phase II.  Phase II teams will receive feedback and recommendations on their designs.
Phase II
Submission Deadline: Friday, February 15, 2013
Students will elaborate on their engineering drawings to provide evidence of the water station's functionality.  Participants will meet with Scientific Support Services to evaluate their designs and receive cost estimates for labor. 
Designs should include:
Material specifications (cost of materials, where to purchase)
Labor (time and cost)
Detailed drawings noting the water station's overall dimensions and materials, as well as dimensions/materials for each component
Detailed description of your project
The judging panel will choose a contest winner after all submissions have been received.  The winning team will be asked to assist the CFA and Sustainability Office in designing appropriate educational signage. 
Technical Criteria
This design competition will focus on creating the housing around a specified filtration unit so that it is both aesthetically pleasing and functional to Wesleyan's needs.
Requirements
Unit dispenses water from 2-4 spigots that are capable of refilling water bottles or cups.
Use off-the-shelf spigot that allows for one-handed bottle filling.
Include a water flow meter in your design to measure water usage.
Housing must fit around Aqua-Pure AP801 filtration unit.
Provide easy access to remove and replace filters.
Utilize a food-grade sink basin or similar catch basin and drainage collection system for spilled water.
Design accommodates hose connection to a 1" building hose fitting and uses food-grade hose with quick disconnects (not screws).
Unit can easily be disinfected and cleaned.
Water station is easily reparable.
All metal components should be made of stainless steel or plastic to prevent rusting.
Meet ADA requirements. See ADA Sec. 3:159 for details. You can also meet these requirements by noting in your design that the station must be staffed at all times. 
Water station must be easily transportable and on a rolling chassis with pneumatic locking wheels.
Total cost of single unit should be ≤$4000; budget must be provided with proposal.
Educational signage explaining purpose of unit and providing visibility.
Use pneumatic locking wheels for stability and ease of setup/moving.
Optional design components
Feel free to get creative!
Design utilizes mostly off-the-shelf parts for easy repair and lower costs.
Unit contains a drinking fountain component, with appropriate drainage accommodations.
Unit includes a simple chilling mechanism.
Unit contains an interior component for holding ice.
Spigot operated by a foot pedal.
Lighting on unit.
Evaluation Points
The final water station will be judged on function, aesthetics, and cost, with an overall emphasis on buildability. 
Function (50%)
Buildable in campus Machine Shop
Designed to last at least 10 years
Dispenses water quickly and easily
Aesthetic (25%)
No sharp edges or components
Visual appearance
Easily understandable engineering design
Financial (25%)
Cost efficiency
Budget is thorough and accounts for maintenance costs