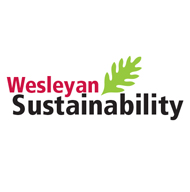 Building Initiatives
We've Done It
I

nitiatives

1

Wesleyan launched the Major Maintenance program in 1989 to upgrade and maintain buildings.  These projects have included building envelope and energy conservation projects, window replacements, window restorations, weather stripping, and installation of programmable network thermostats.  Materials used in MM projects include:

Denim batting and cellulose blown-in insulation
Low- or no-VOC paints and finishes
PVC-free flooring
FSC certified wood
composite materials for exterior decking and railings
Water aerators
Post-consumer content carpet squares

MM projects strive to salvage, reuse, or recycle all construction waste, including asphalt, shingles, concrete, metals, window glass, wood, and furniture.

2

Completed a renovation of the former Squash Courts Building into 41 Wyllys Avenue.  41 Wyllys is the new home of the College of Letters, Art History Program, and the Wesleyan Career Center.  41 Wyllys Avenue received LEED Platinum Certification in 2013.

3

The Allbritton Center (formerly Davenport Campus Center) is a 35,000 square foot renovation from the student campus center into classrooms, offices, and seminar spaces. Allbritton received LEED Gold Certification in 2009.

4

In 2007, Usdan University Center was built to LEED Certified Standard (certification not pursued).

5

In 2005, Wesleyan began to replace aging student woodframe houses with highly efficient prototype houses, which are designed to conserve energy.  All of these houses are larger than the typical woodframe house to conserve energy and improve the sustainability of campus housing.

25 Fountain Avenue and 14 Warren Avenue share a geothermal well system for heating and cooling.

19 Fountain Avenue is Energy Star rated and has rooftop solar PV panels for electricity.
231 Pine Street is Energy Star rated.
20 Fountain Avenue is built to have a tight envelope and be extremely energy efficient.

6

In 2005, Wesleyan built the 270-bed Fauver undergraduate housing facilities (now Fauver Apartments and Bennet Hall) and was awarded LEED Silver Certification.

7

All new buildings constructed since 2005 have indoor air quality systems, and a member of the Utilities Management team monitors building air flow and air quality constantly.  Wesleyan conducts air quality audits when there is a complaint through the work order system and has an on-call consultant who advises on indoor air quality issues beyond the scope of the Environmental Services team. 

9

Contract documentation requires separation of all construction and demolition debris for reuse or recycling.  68% of C&D waste was reused or recycled in FY 2012.
We're Working On It
 

I

nitiatives
1
A Green Building Policy will be submitted for review and approval. The policy will also include a plan to address LEED for Existing Buildings: Operations & Maintenance. The LEED for Existing Buildings Rating System addresses whole-building cleaning and maintenance issues (including chemical use), recycling programs, exterior maintenance programs, and systems upgrades.
Send suggestions for green building initiatives to rsillasen@wesleyan.edu.