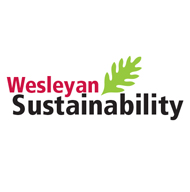 Grounds Initiatives
We've Done It
Wesleyan follows an integrated pest management protocol in its grounds practices. For more information, visit the lawn, field, and tree care page.
Wesleyan prioritizes the use of native plants in in-ground plantings and avoids planting any invasive species.  There are extensive native plantings at Allbritton, on the former McConaughy Hall site, and at Long Lane.
Students in WILD Wes developed the West College (WestCo) courtyard using permaculture principles to design a beautiful and sustainable landscape.  Planting on WestCo finished in spring 2013, and WILD Wes is now maintaining this site to remove invasive species and adjust plantings as needed.  WILD Wes started its second permaculture site in the Butterfields Courtyard in Summer 2013, constructing stairs and terraces without any machinery.  Plantings were completed in Spring 2014. 
Wesleyan utilizes land-use practices that protect wildlife habitat, including the Long Lane native grass and wildflower plantings and on 89 acres of wooded areas and hayfields.
For snow and ice removal, Wesleyan has moved away from using sand and instead uses Magic Salt, which is less corrosive than conventional rock salt.  The Green Building subcommittee is investigating alternatives and ways to prevent overuse of salt, which can pollute waterways, kill plants, and damage buildings.  
Wesleyan composts or mulches most of its landscape waste, either on-campus (80%) or at the Middletown Transfer Station (20%).  We do not use our own woodchips around trees because of insect and disease concerns.  All elms are sent to the landfill to prevent the spread of Dutch Elm Disease.  All stump grindings are used as compost amendments.

Wesleyan operates a plant dump on the Long Lane property for discarded annuals, which are either collected for replanting or composted. 
Grounds crews' mowers leave grass clippings on the fields and lawn areas for moisture retention. 
Any trees removed on campus are chipped and used in compost or as walkway liners in the West College Courtyard.
We're Working On It
The Green Building Policy, which is under revision, will include policies on plantings, paving, and other outdoor maintenance.
The Green Building subcommittee is investigating the feasibility of participating in Tree Campus USA and providing clear guidance for planting, maintaining, and removing trees.
Grounds and Athletics are investigating the feasibility of organic field care and hope to launch a pilot project within the next year.
Send suggestions for grounds initiatives to Rob Borman at rborman@wesleyan.edu.