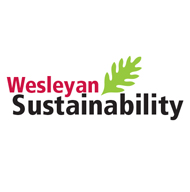 Waste
Wesleyan's recycling and trash goes to CRRA in Hartford; you can see a video of the single-stream recycling process on Dainty Rubbish's website (our waste hauler).  Trash goes to a waste-to-energy incinerator in Hartford; the waste ash gets landfilled.  
Wesleyan promotes the 5 Rs:
Refuse
Reduce and Reuse
Recycle
Rot
The Sustainability Office and SAGES Recycling Subcommittee are continually developing new waste reduction programs.  If you have an idea for us, email sustainability@wesleyan.edu.
Contact Information
Bill Nelligan, SAGES Recycling Subcommittee Chair
(860) 685-2771
If you have issues with recycling pickup, call Customer Service at (860) 685-3400.