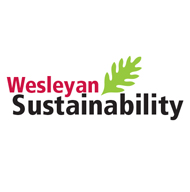 Composting
| | |
| --- | --- |
| | Wesleyan composts food scraps from Usdan Dining Hall, Summerfields Dining Hall, and student and employee residences.  Several pilot campus offices also compost.  Composting Interns and Physical Plant staff transport pre-consumer compostable material (from food preparation) to Long Lane Farm, where it is processed in two Earth Tubs.  Finished compost is used as a soil amendment at Long Lane Farm.  Post-consumer food scraps (plate scrapings) are sent to Greencycle in Ellington, CT.  If you're new to composting and want to learn more about Wesleyan's programs, check out these FAQs. |
Usdan Dining Hall
Usdan collects both pre- and post-consumer compost.  Usdan staff separate scraps from food preparation and scraps from plate scrapings to be composted in the appropriate locations.  The Sustainability Office hopes to expand this program to Summerfields, Pi Cafe, and other on-campus dining locations as resources become available.  Post-Consumer Composting Intern Zack Kaufman '16 works with the Sustainability Office and Bon Appetit to keep the program running smoothly.
Student and Employee Residences
In September 2010, students began a residential composting initiative. The program is now run by the Wesleyan Sustainability Office and led by Pre-Consumer Composting Interns, Zach Burns '14 and DeNeile Cooper '15. Residential Composting enables all woodframe, program house, and apartment resdiences to compost their food waste. Students and employees who wish to compost receive a 5 gallon bucket for household collection and are responsible for emptying the bucket into the nearest black composting bin. Composting is currently available for woodframes, Senior Fauver, Hi/Lo-Rise, graduate housing, faculty/staff housing, Program Houses, Butterfields, and West College (WestCo) residence halls. Dorm residents are welcome to compost on an individual level (kitchen composting bins are not available at this time).  The Pre-Consumer Composting Interns are currently looking to expand residential composting to more students and to all residence halls. If you'd like to request a bucket and start composting or are interested in joining the student Composting Committee, email the Composting Interns. 
Campus Offices
In October 2012, the Sustainability Office began offering the opportunity for faculty and staff to participate in the campus composting program. Participating offices receive a bucket for collecting compostable food waste. If your office, floor, or building would like to receive a blue bucket, please appoint a faculty or staff composting coordinator who will be responsible for checking and emptying the office's bucket into the nearest black composting bin. Once you have appointed a composting coordinator, please email
Jen Kleindienst
with the faculty or staff coordinator's name, extension number, and campus address.  One of the Pre-Consumer Composting Intern will deliver the bucket to your office and answer any questions you have about the program.
What is compostable?
Compostable

Not Compostable

fruits and vegetables (raw or cooked)
tea bags
coffee grounds and filters
bread, cereal, rice, pasta, and other grains
eggs and eggshells
unbleached paper towels and napkins

meat
dairy
oils
liquids
recyclable materials (glass, metal, plastic)
bleached and/or inked paper products
cleaning products/chemcals
trash
"compostable" plates, cups, and cutlery
Where do I compost?
There are 12 black or green composting bins located on campus that are open to use by all students and employees (see map).  Please empty your buckets into the bins. 
Hi/Lo-Rise Apartments (outside of Hi Rise Laundry Room)
The Bayit (157 Church St., between the Bayit and WesWings)
The Butterfields (against the wall of Butterfields A)
Brainard Ave. and Home Ave. (53 Home backyard)
Exley (loading dock along Pine St. opposite the dumpsters)
Warren St. and Fountain Ave. (backyard)
Vine St. and Knowles Ave. (side yard)
Fauver (on the Foss Hill side, next to the evergreen tree)
Hewitt (outside Lounge on the side of Hewitt facing Vine St.)
Farm House (344 Washington St. backyard)
Full/Writing House (202 Washington St. side yard)
Court Street Apartments (272-278 Court St. back right corner of parking lot)
For questions about dining or office composting programs, email Jen Kleindienst. For questions about residential composting, email the Composting Interns.