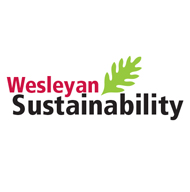 Woodframe and Program House Recycling
If you live in a woodframe or program house, the City of Middletown will pick up the following recyclables from your curb if they are properly sorted and put out on recycling day. If you do not have a blue recycling bin, e-mail wnelligan@wesleyan.edu with your address.
PUT IN THE BLUE CONTAINER:
Plastic
Plastic #1 - 7 (drink bottles, yogurt cups, shampoo bottles, and peanut butter jars; rinsed/cleaned): check the bottom of most plastic containers for these symbols:
Glass
Bottles and jars (rinsed, caps ok)
Metal
Drink and food cans
Aluminum food containers and foil (clean)
K-Cup foil lids (detach from plastic)
Other
Milk cartons and drink boxes (rinsed, no straws)
PUT IN A BROWN PAPER BAG or CARDBOARD BOX and placed next to the blue bin:
Paper
White/colored paper
Envelopes
Post-It notes
Newspaper
Magazines
Junk mail
Cardboard (flatten)
Cereal boxes (remove plastic liner)
Pizza boxes (rip in half, greasy half is trash)
Other corrugated (wavy inner layer) and non-corrugated cardboard
Recycling Collection Schedule
Trash Collection Schedule
Call the Middletown Recycling Coordinator at 344-3526 for more information.