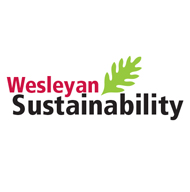 Waste
Wesleyan promotes the 5 Rs:
Refuse
Reduce and Reuse
Wesleyan's Freecycle program provides a way for the Wesleyan community to reuse unwanted items.
The annual Waste Not collection and tag sale prevents move-out waste from ending up in the incinerator and saves students money in the fall.
Employees can get sturdy used office furniture from the Freecycle Center at Physical Plant.  Call x3400 to schedule an appointment
Recycle
Wesleyan's recycling program has diverted waste since the 1980s. Download a recycling poster or handout to learn more about on-campus recycling. 
Woodframe residents have curbside recycling serviced by the City of Middletown.
Proshred collects, shreds, and recycles office paper for recycling.
Rot
Composting programs for student residences and at Usdan turn food waste into rich compost.
The Sustainability Office and SAGES Recycling Subcommittee are continually developing new waste reduction programs.  If you have an idea for us, email sustainability@wesleyan.edu.
Contact Information
Bill Nelligan, SAGES Recycling Subcommittee Chair
(860) 685-2771
If you have issues with recycling pickup, call Customer Service at (860) 685-3400.