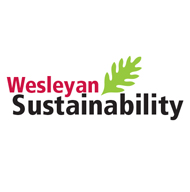 Recycling and Waste Initiatives
We've Done It
 
Initiative
1
Wesleyan's recycling program began in the 1980s and has been single stream on campus since 2012.  Woodframes and program houses still have dual stream recycling.
2
The Waste Not program, run annually by Sustainability Interns and volunteers since 2009, collects unwanted reusable items from students in the spring during move-out.  Collected items are donated or sold to students in the fall.  In 2013, through a partnership with Easter Seals Goodwill Industries, Waste Not diverted over 20 tons of furniture, clothing, and other items from the incinerator, which amounts to 34% of total waste.  

3

Wesleyan purchased two cardboard balers in 2013, which improve corrugated cardboard collection and increase diversion rates.

4

Students collected and baled cardboard during August 2013 move-in, diverting 1.5 tons for recycling.
5

Wesleyan participates annually in RecycleMania with 523 colleges and universities.  In 2013, Wesleyan placed:

8th out of 161 schools in Corrugated Cardboard

38th out of 360 schools in Per Capita Classic

91st out of 273 schools in Grand Champion

143rd out of 167 schools in Waste Minimization

6

PROSHRED collects and shreds confidential documents for recycling in over 30 campus departments.  In 2013, we recycled enough paper to save 466 mature trees from destruction.


7
The Environmental Services Office recycles non-traditional recyclables, including electronics, batteries, compact fluorescent and fluorescent light bulbs, cell phones, CDs, and printer cartridges.  Electronic waste is recycled through an E-Stewards Certified vendor.
8
Wesleyan's Freecycle program provides a way for the Wesleyan community to reuse unwanted items.  Employees can get sturdy used office furniture from the Recycle Center at Physical Plant. 
9
Pre- and post-consumer composting is collected daily from Usdan and Summerfields dining halls.  Each year, 17 tons of pre-consumer food scraps are sent to Long Lane Farm, and 20 tons of post-consumer scraps are sent to Greencycle in Ellington, CT for composting. 
10

Since 2010, composting has been available to all student woodframes, program houses, and apartments. Students who wish to compost receive a 5 gallon bucket for household collection and are responsible for emptying the bucket into the nearest black composting bin. Dorm residents are welcome to compost on an individual level (kitchen composting bins are not available at this time).

11

Wesleyan joined EPA's Food Recovery Challenge in April 2013 to evaluate and reduce its food waste in Usdan dining hall.

12

At Reunion & Commencement 2013, waste reduction was significant:

Students diverted about 87% of waste thrown away at the all-college picnic for recycling, composting, and donation through the use of waste collection stations instead of free-standing trash and recycling bins.  
6000 reusable water bottles were purchased for R&C weekend.  Approximately 500 of these bottles were washed post-Commencement and will be reused for R&C 2014.

13

We have completed waste audits of Fisk Hall, Hewitt dorm, and Summerfields dining hall.  The results revealed that much of what is thrown away as trash is actually compostable or recyclable.
We're Working On It
 

I

nitiative
1
Investigating ways to improve recycling diversion to increase our waste minimization rates.
2
Improving collection for Waste Not to increase waste diversion at move-out.
3
Expanding composting to residence hall kitchens, campus offices, Pi Café, Star & Crescent Restaurant, WesWings, and Red & Black Café.
4
Conducting a waste audit at Usdan dining hall to develop strategies for reducing food waste.
5
Investigating strategies to reduce packaging for lunches at the All-College Picnic during Reunion and Commencement.
6
Investigating either a third cardboard baler or ways to consolidate cardboard collection.
Send suggestions for waste reduction initiatives to wnelligan@wesleyan.edu.