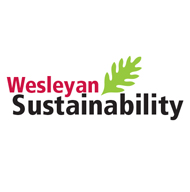 Where We Recycle
For a list of what can be recycled in campus recycling bins, visit our single-stream recycling page.  For information on where to recycle other items, see below or contact Bill Nelligan.
WHAT

WHERE

Aerosol Cans (paint ONLY)

Cassette Tapes

Cell Phones

Computers and Electronics

Printer Cartridges (inkjet, bubble jet, laser, toner)

String Lights (new!)

Ink cartridges can be recycled at Cardinal Tech in Usdan
For small items: campus mail to Bill Nelligan, 170 Long Lane
For large items: email wnelligan@wesleyan.edu or call x3400 for pickup

Put printer cartridges in a sealed plastic bag or the plastic wrapper holding your new cartridge

All Glass, Metal, Plastic, and Paper

Mixed recycling bins are available at most locations on campus.

Batteries (Lead Acid, NiCad, Li Ion, NiMh, Li)

Hall-Atwater by elevators on ground & first floor

Campus Mail to Bill Nelligan, 170 Long Lane

Bubble Wrap, Packing Peanuts, and Packaging Materials

Campus Mail to Bill Nelligan, 170 Long Lane

Corrugated Cardboard
details
Includes all cardboard with an inner wavy layer. Cardboard must be clean (no grease, food, or dirt contamination).


Throughout campus buildings: completely flatten box, and place next to your mixed recycling container
Science Center loading dock
Usdan (lower level by Post Office)

Fluorescent and Compact Fluorescent (CFL) Bulbs
Motor Oil
Scrap Metal

Bulky scrap metal bin, behind 170 Long Lane.

Styrofoam (block)

Science Center loading dock

Textiles (reusable, includes clean linens, towels, clothing)

Shoes (wearable)

Butterfield A parking lot ("L" lot) -- Lawn and High Streets (container next to the cardboard dumpster)
Parking lot for High Rise and Low Rise residence halls, off Church Street
At the end of McConaughy Drive, behind the Foss Hill residence halls (benefits Big Brothers Big Sisters, Nutmeg Chapter).