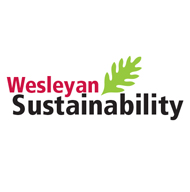 Eco Facilitators Program
The Eco Facilitators (EF) Program is a program of the Wesleyan Sustainability Office. Eco Facilitators are peer-to-peer sustainability educators, who will be based in Bennett, Butterfield A, Butterfield C, Clark, West College, Nicholson, and 200 Church residence halls for the 2015-16 school year.  EFs work with first-year students to promote energy and water conservation, waste reduction, and other sustainable living habits through projects, campaigns, events, and activities. 
Working as an Eco Facilitator is a great opportunity to gain leadership skills, learn how to raise Wesleyan's environmental consciousness, and build a sustainable campus culture. Each EF participates in an August multi-day training, fall course, and spring meetings.  The fall student forum, Sustainable Behavior Change (ENVS 300), focuses on behavior change techniques and strategies and how to implement effective dorm-based projects.  EFs will learn about campus sustainability practices and resources, community-based social marketing, effective communication, and environmental psychology.  In the spring, EFs continue their education and outreach implementing behavior change-focused sustainability projects that encourage behavioral shifts amongst the student body.  
The Eco Facilitators Program is now hiring for the 2015-16 school year!  Learn more about the program by reading our list of Frequently Asked Questions.  An information session for the program will be held on Tuesday, April 7 at 4:15 PM in Allbritton 004.
Apply Here! Applications are due Friday, April 10 at 11:59 PM.
For more information, please email ecofacilitators@wesleyan.edu.
Eco Facilitators 2014-15
200 Church: Rachel Sobelsohn '17 and Tavo True-Alcala '15
Butterfield A: Mira Klein '17, Ruby Lang '17, and Matt Pelton '17
Butterfield C: Cassia Patel '17 and Lucy Salwen '17
Clark: Bobby Cunningham '15 and Jenna Shapiro '17
West College: Becca McCord '17 and Sasha Stahl '17