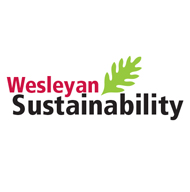 Eco Facilitators Program
The Wesleyan Sustainability Office launched the Eco Facilitators program in Fall 2014.  Eco Facilitators (EFs) are peer-to-peer sustainability educators who promote energy and water conservation, waste reduction, and sustainable lifestyle habits on campus, based in Butterfield A, Butterfield C, Clark, WestCo 1-4, and 200 Church residence halls.  Working as an Eco Facilitator is a great opportunity to gain leadership skills, learn how to raise Wesleyan's environmental consciousness, and build a sustainable campus culture. 
Eco Facilitators are a group of students who help to raise awareness about ecological issues, encourage environmentally responsible behavior in their hall mates and peers, and plan related events and activities. EFs will also organize group activities, collaborative projects, and represent the EF Program at various campus events. EFs must attend a multi-day training retreat during orientation, weekly classes in the fall, and weekly meetings in the spring.

Each EF participates in a fall half-credit seminar, Sustainable Behavior Change (ENVS 300), which will focus on effective behavior change techniques and strategies and behavior change applications through the implementation of a dorm-based project.  EFs will learn about campus sustainability practices and resources and may attend some course field trips.  Throughout the year, EFs will learn about sustainability and ways to design and create sustainable behavior change on campus. In the spring, EFs will have paid positions and will work in groups to implement campus-wide sustainability projects that will encourage behavior change shifts. 
Learn more about the program by reading our list of Frequently Asked Questions.  For more information, please email ecofacilitators@wesleyan.edu.