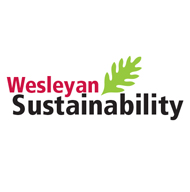 Transportation Initiatives
We've Done It
| | |
| --- | --- |
|   | Initiative |
| 1 | Wesleyan has two electric vehicle charging stations on campus, both in the Freeman Athletic Center parking lot.  The first station was installed in 2012 and the second in 2014.  These stations are open 24/7, can accommodate 4 cars (2 at a time), and are available for public use. |
| 2 | In 2013, Wesleyan established a partnership with CT Rides, a commuter incentive service sponsored by the Connecticut Department of Transportation.  All employees and students can join the program and earn rewards for all alternative transportation. |
| 3 | Wesleyan began purchasing electric vehicles in 2007 and now runs a fleet of 10 electric and 6 hybrid vehicles.  A purchasing policy requires that all Wesleyan vehicle purchases must be low emissions vehicles (gas-electric hybrids, electric vehicles, or alternative fuel vehicles), unless a viable alternative is not available. |
| 4 | In 2008, ITS launched a Rideboard to facilitate student and employee carpooling. |
| 5 | The Easy Street commuter van service is offered to Wesleyan faculty and staff in order to reduce the number of cars commuting to campus and their associated emissions. |
| 6 | WesBikes began a bike rental program in 2010 (currently on hiatus). |
| 7 | In 2009, Wesleyan established a partnership with Zipcar and now has four rental cars on campus. |
| 8 | Wesleyan runs a weekly shuttle bus service to New Haven Train Station, and expands this service to Bradley Airport, New York City, and Boston before and after break periods. |
| 9 | Wesleyan has worked with Middletown Area Transit to establish bus stops on campus and at local shopping areas. |
| 10 | With permission of a supervisor, Wesleyan employees can establish condensed work weeks to reduce commuting. |
| 11 | Wesleyan's Rental Housing Program, Advanced Purchase Program, and Mortgage Program provide incentives for employees to live within walking distance of campus. |
 We're Working On It
 

I

nitiative
1

Exploring the feasibility of purchasing carbon offsets to counter greenhouse gas emissions associated with university air travel.

2
Continuing to replace aging Physical Plant vehicles with low-emission vehicles.
3
Evaluating the most accurate method(s) to estimate greenhouse gas emissions associated with employee commuting.
4
Investigating the feasibility of an indoor or covered bike storage facility.
5
Investigating strategies to increase student and employee carpooling.
6
Pursuing strategies to eliminate vehicle idling on campus.
7
Wesleyan is continuing work on its transportation sustainability policy.
Send suggestions for transportation initiatives to sustainability@wesleyan.edu.