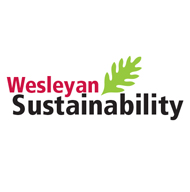 Water
In Spring 2012, the Wesleyan Student Assembly passed a resolution requesting the removal of bottled water from all vending machines, campus dining establishments, and department offices.  Subsequently, Wesleyan ceased the sale of bottled water in campus-operated eateries and vending machines and replaced departmental water coolers with water filtration systems.
The tap water on campus is clean and safe to drink; water filtration on campus is purely for taste reasons.  The City of Middletown's annual water quality reports indicate that Middletown's water is within compliance for all tested contaminants. 
Recognizing that access to clean, sufficient, and affordable drinking water should remain a basic right, Wesleyan has adopted the following initiatives to provide water to the campus community:
Water bottle filling stations and drinking fountains are available across campus.  We are currently updating our list of locations and investigating new locations for bottle filling stations. 
Offices wishing to purchase reusable water bottles for events and guests may do so through the Purchasing Office, which attempts to consolidate orders for better pricing.  If a department wishes to purchase bottles in small quantities (<50), the Sustainability Office often has extra bottles for sale for $2 each (or less).  Contact Jen Kleindienst to inquire.
Water filtration stations are available in nearly every office on campus, as well as in several public locations, including Woodhead Lounge. 
In 2012-3, the Sustainability Office, Center for the Arts Feet to the Fire Initiative, College of the Environment, and Patricelli Center for Social Entrepreneurship co-sponsored a student competition to design a portable filtered water station for use at outdoor events.  The Wishing Well debuted at Reunion and Commencement 2013 and has been a great success.  To borrow the Wishing Well, fill out the loan agreement. 
Reunion & Commencement has been bottled water free since 2013, instead providing recycled and recyclable cups and reusable water bottles.  
Don't have a reusable water bottle?  They can be purchased at Usdan and Pi Cafés, Cardinal Technology Store, and the Wesleyan bookstore. Don't forget to bring your bottle with you!
Please contact the Sustainability Office with any questions.