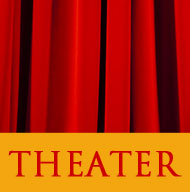 Ron Jenkins
Professor of Theater
Professor Ron Jenkins with the cast members of a play he directed at Indonesia's Kerobokan Prison.
Marcela I. Oteíza
Assistant Professor of Theater
Visual Artist and Scenic Designer at Wesleyan University, Marcela I. Oteíza teaches studio courses in design and media for the performing arts. One of her ongoing projects is a video-documentary: City as Site, based on street performances at the Santiago a Mil Festival (2012-15). Her design credits include scenic design for Richard III by Shakespeare directed by David Jaffe, exhibited at World Stage Design (WSD – 2013) Cardiff, Wales, (OISTAT); scenic design for Trojan Women: Love Story by Charles L. Mee, directed by Matthew Wilder, L.A.; and scenic and media design for Pornographic Angel by Nelson Rodrigues, directed by Claudia Nascimento, N.Y.C. Some of her recent Wesleyan design credits include scenic design for The Great God Brown, by Eugene O'Neill, directed by Yuriy Kordonsky, 2011, and The Peony Pavilion by Tang Xianzu, directed by Jeffrey Sichel, 2013. She specializes in collaborative and non-text-based work, such as The Last Days of the Old Wild Boy directed by Rinde Eckert, a 2012 Doris Duke Performing Arts fellow. She continues to collaborate with the Judy Dworin Performance Project (JDPP), for which she has done scenic and media design for Light House, In This House and Meditation from a Garden Seat. She was a fellow at the Wesleyan Center for the Humanities in 2009, where she delivered a lecture entitled The Fragmentation of the Body and the Theatrical Space. She holds an MFA from the California Institute of the Arts and a BFA in fine arts from the University of Chile.
Quiara Alegría Hudes
Shapiro Distinguished Professor of Writing and Theater
Quiara Alegría Hudes, a Pulitzer Prize recipient, will be the new Shapiro Distinguished Professor of Writing and Theater for three years beginning in the fall of 2014. The appointment marks a return to campus for Hudes, who taught as a visiting playwright in 2012.
Hudes's most recent publication is The Elliot Cycle, three standalone plays written over an eight-year period. Each play uses a different kind of music – Bach, Coltrane, and Puerto Rican folk music – to trace the coming of age of a haunted young man from Puerto Rico. Elliot, A Soldier's Fugue, the first play, was a finalist for the Pulitzer Prize in 2007. Water by the Spoonful won the 2012 Pulitzer Prize for Drama, and The Happiest Song Plays Last, the third play, is about to open Off-Broadway in New York on February 11 at Second Stage Theatre.
"What a thrill to bring all I've learned about process, storytelling, and structure to the next generation of young writers," Hudes said. "There is a palpable curiosity among the Wesleyan student body, along with a willingness to do the hard work that marries creativity and craft. I'm honored and only slightly giddy with the possibilities."
She also wrote the book for the Broadway musical In the Heights, music and lyrics by Lin-Manuel Miranda '02, which received the 2008 Tony Award for Best Musical and a Tony nomination for Best Book of a Musical; it was also a 2009 Pulitzer Prize finalist.
Hudes's honors include the United States Artists Fontanals Fellowship, the Joyce Fellowship at the Goodman Theatre, the Aetna New Voices Fellowship at Hartford Stage, the Roe Green Award at the Cleveland Playhouse, and fellowships at Sundance Theater Institute and the O'Neill Theater Center
http://www.quiara.com/quiara.com/Index.html