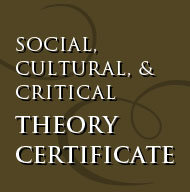 Reading Groups
Faculty Reading Group: "What is Critique?"
Friday Nov. 12th, 12-2pm, CHUM seminar room (CHUM 106)
Lunch will be served, courtesy of the Theory Certificate and the Center for the Humanities.
Convener: Nima Bassiri, Mellon Postdoctoral Fellow, Center for the Humanities
Inaugural Readings:
Bruno Latour, "Why Has Critique Run out of Steam? From Matters of Fact to Matters of Concern," Critical Inquiry 30 (Winter 2004).
Judith Butler, "Critique, Dissent, Disciplinarity," Critical Inquiry 35 (Summer 2009).