Recent Events
Climate Change and Public Policy: Saving the Earth at the State and Local Level
Peter Shumlin '79, Governor of Vermont 2011-2017, has been a pioneer in developing state-level policies to combat climate change, including the 2011 Comprehensive Energy Plan with a goal of achieving 90% renewable energy in Vermont by 2050. Under his watch 15,000 jobs have been created in clean energy, solar panels have increased by 1000% while the cost of solar has fallen 60%, and wind generation has increased 400%.
Right Now! The Historic Decision on Net Neutrality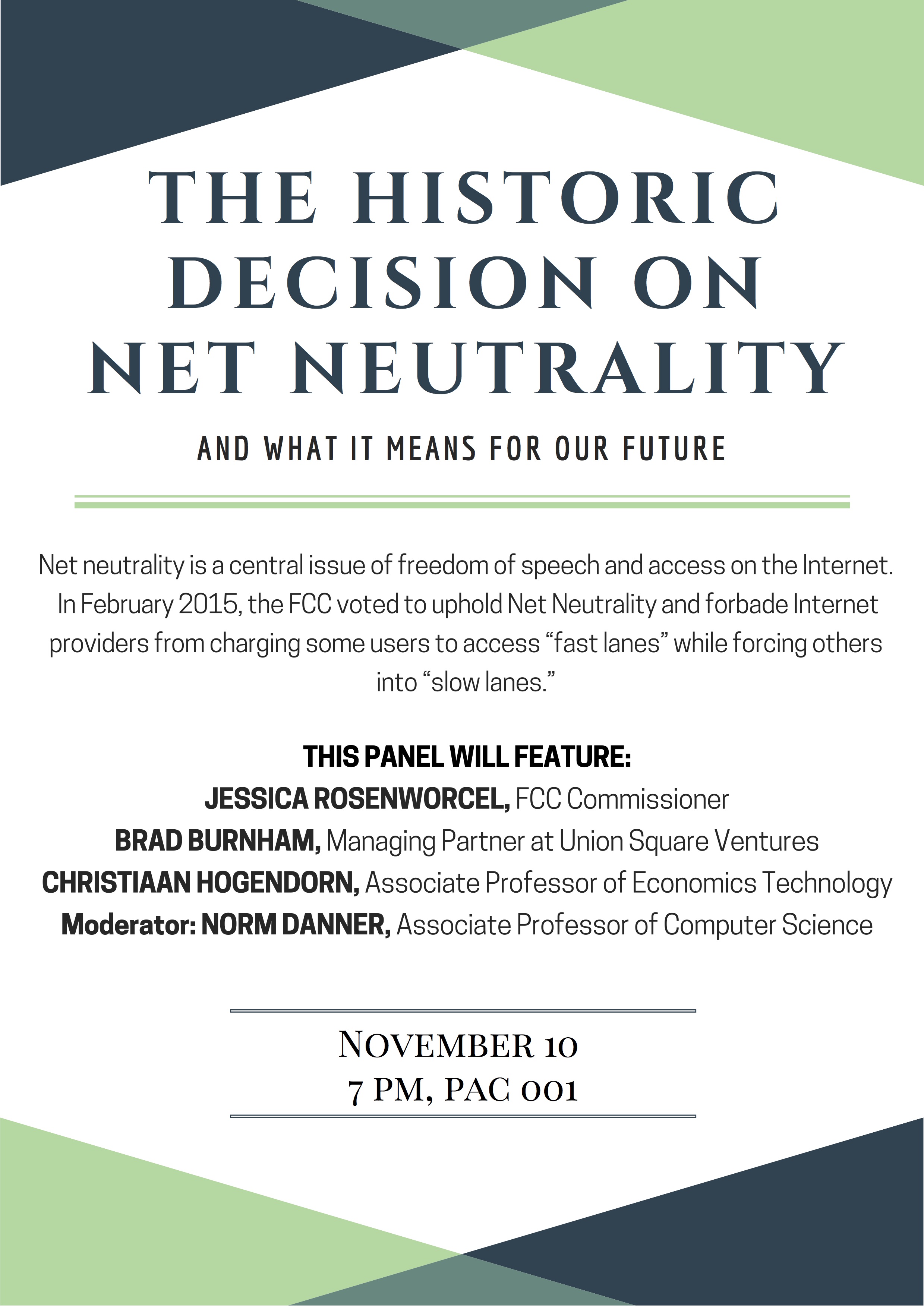 Right Now! Election 2016 Series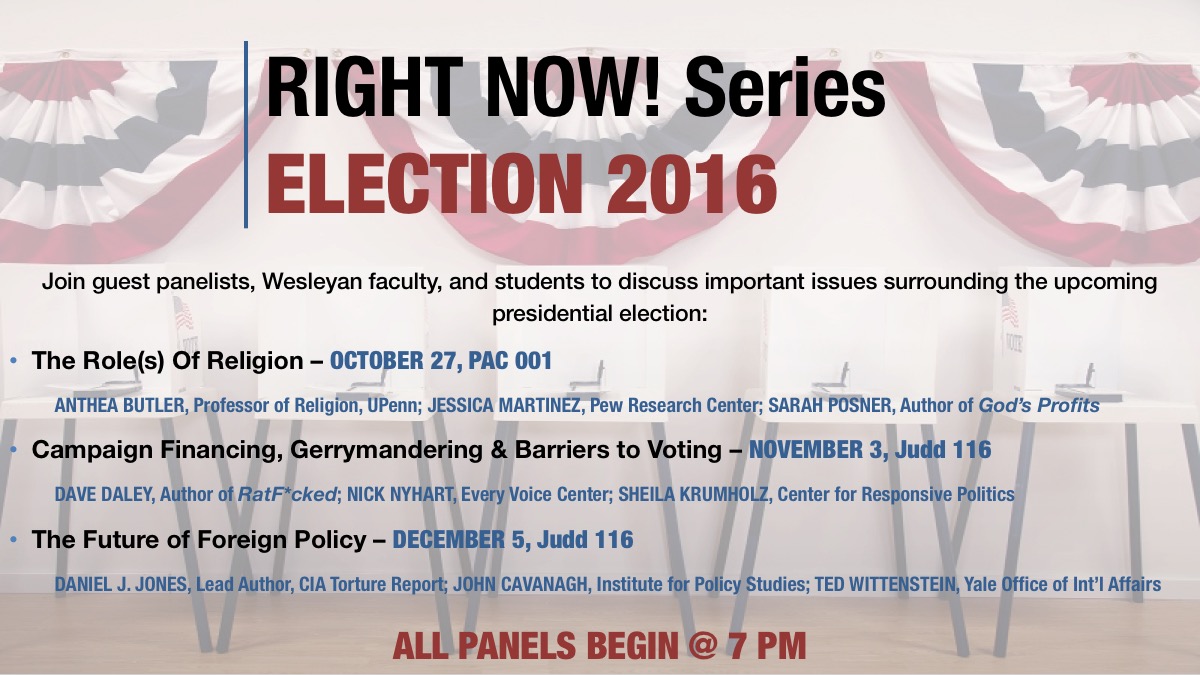 Behind the Curtain: Campaign Finance, Gerrymandering, and Barriers to Voting
Dante Behind Bars

The Activist Doctor
What is it like to mix medical concerns with moral and political concerns?  What are the pay-offs—and what are the dilemmas–of being an "activist doctor"?
Three doctors—Saud Anwar, Margo Simon, and Cliff O'Callahan—discussed their careers, which includes work from the inner cities, the underserved and homeless of the United States to rural health centers of Guatemala. 
Dr. Anwar is a physician who specializes in Lung Diseases and Critical Care Medicine. Currently, he serves as Chair of the Department of Internal Medicine of Manchester Memorial and Rockville General Hospitals. Dr. Anwar has been involved in international and national humanitarian and peace initiatives. He is frequently invited to consult for the FBI, Homeland Security and has organized medical missions to Haiti and Pakistan for disaster relief. His efforts have been recognized at the state and federal levels and by multiple professional organizations.
Dr. Simon earned her M.D. at the Yale University School of Medicine and completed residency training in Family Medicine and Psychiatry at the Albert Einstein College of Medicine/Montefiore Medical Center. Dr. Simon is an Assistant Professor in the Departments of Family & Social Medicine and Psychiatry & Behavioral Health at the Center for Urban Community Services. Previously, she served as the Medical Director of Next STEPS (Substance Abuse Treatment Education and Prevention Services).
Dr. O'Callahan is a pediatrician and faculty member with Middlesex Hospital's Family Practice Residency Program. Dr. O'Callahan spent three years building a rural health system of community health workers and midwives in the Peten region of Guatemala and five years of working for the Puyallup Tribe of Indians in Tacoma, Washington, where he was the sole pediatrician in a family practice community health center model. During this time he also served as the Indian Health Service's Maternal Child Health Consultant for the Northwest states.
Tuesday, April 19, 2016
7:30pm, PAC 001
Literature and Writers in Times of Crisis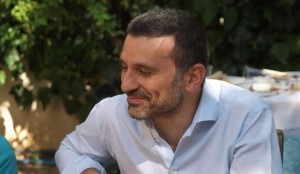 Writers have been asked (at times even forced, in a way) to take sides on the Greek crisis. That is, to express opinion on the central question of who is to blame or to respond creatively to the relevant agonies. One question to raise is what has come out of this and a second one is what could come out of this, i.e. how justified is the claim that those who write literature are in any way better equipped  to comment on contemporary matters. Examples are drawn both from famous instances of the stance taken by politically engaged writers, as well as the author's own works.
The discussion was held by Konstantinos Poulis, who has published a collection of short stories, Thermostat,  (nominated for the National First Book Award), theatre plays, Don Juan,  and  a collection of political essays on the Greek crisis, Tax the rag pickers! He has a PhD in Classics and regularly comments on Greek politics.
Monday, April 18, 2016
4:30pm, Downey House 113
Alexander Heffner: The Future of Civil Discourse: An Exploration of the Millennial Citizen, the Space of Old and New Media, and the Character of our Politics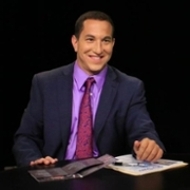 Alexander Heffner is host of The Open Mind on PBS. He has covered American politics, civic life and the Millennial vote since the 2008 presidential campaign and reported extensively on youth engagement. His writing has appeared in leading newspapers and magazines and his analysis has been featured on nationally broadcast media outlets. He founded and edited the first-ever online national student newspapers covering the 2008 presidential campaign and the first year of the Obama presidency and also directed a nonprofit initiative for which he taught civic education/journalism in under-served New York City classrooms.
Wednesday, April 13, 2016
7:30pm, Allbritton 103
Right Now! The Refugee Crisis Panel Series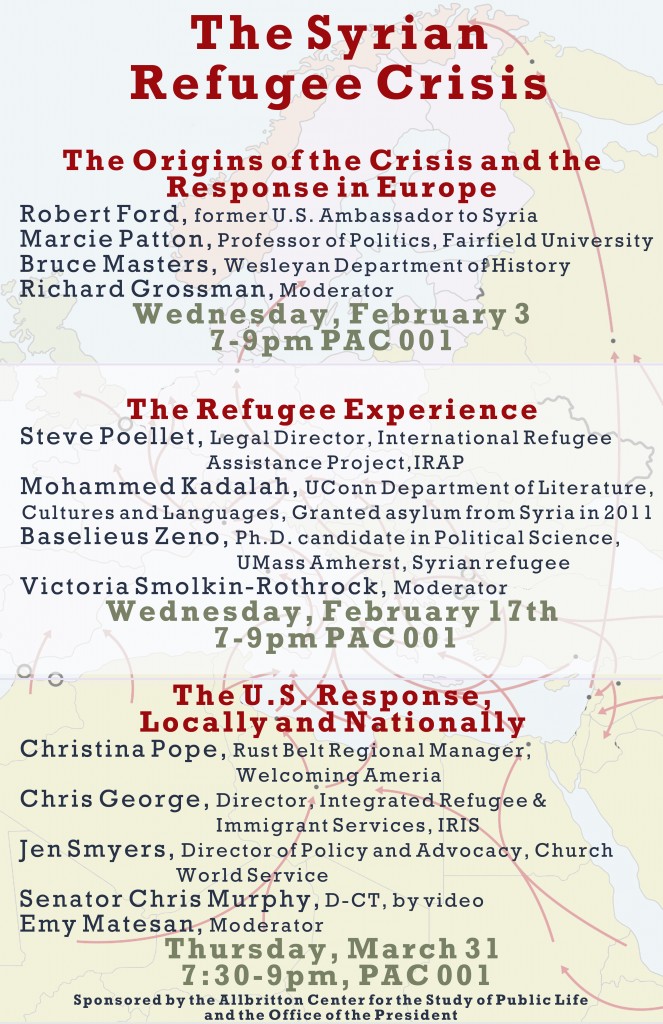 The first panel, The Development of the Crisis and the Response in Europe, was held at 7 p.m. February 3, 2016. Moderated by Professor of Economics Richard Grossman, the panel was comprised of Bruce Masters, the John E. Andrus Professor of History; Robert Ford, former U.S. ambassador to Syria; and Marcie Patton, professor of politics at Fairfield University.
  The second panel, The Refugee Experience, was held at 7 p.m. February 17. Moderated by Victoria Smolkin-Rothrock, assistant professor of history, assistant professor of Russian, Eastern European and Eurasian Studies, it featured discussion between Steve Poellot, legal director at the International Refugee Assistance Project (IRAP); Mohammed Kadalah, of the University of Connecticut Department of Literature, Cultures and Languages, who was recently granted asylum after fleeing Syria in 2011; and Baselieus Zeno, a PhD candidate in political science at the University of Massachusetts–Amherst and a Syrian refugee.
  The third panel, The US Response Locally and Nationally, was held at 7:30pm on March 31. Moderated by Emy Matesan, and featuring Christina Pope of Welcoming America, Chris George of Integrated Refugee Immigrant Services, Jen Smyers, of Church World Service, Ben Florsheim from Senator Chris Murphy's office, and Senator Chris Murphy by video.
Different Shades of Green: In Celebration of the Life of Dr. Martin Luther King, Jr.
All members of the Wesleyan and greater Middletown community were invited to a panel presentation & discussion to explore the perspective on Environmental Justice as a keystone to Civil Rights and Social Justice Legacy that Dr. King has left.
Friday, January 29, 2016
4:15pm, Memorial Chapel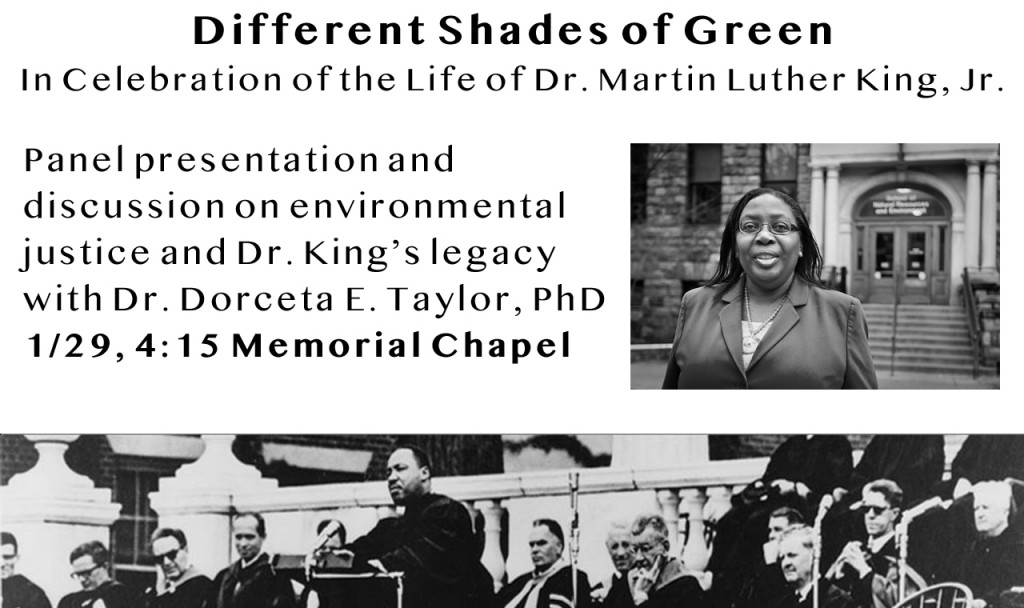 ​Talking about Race with Jelani Cobb 
On Wednesday, December 2, 2015 at 7:00pm, Wesleyan welcomed Jelani Cobb, PhD, Director of the Africana Studies Institute at UConn and Staff Writer of the New Yorker to speak in CFA Hall. His book, the Substance of Hope: Barack Obama and the Paradox of Progress, was published in 2010 through Bloomsbury Publishing.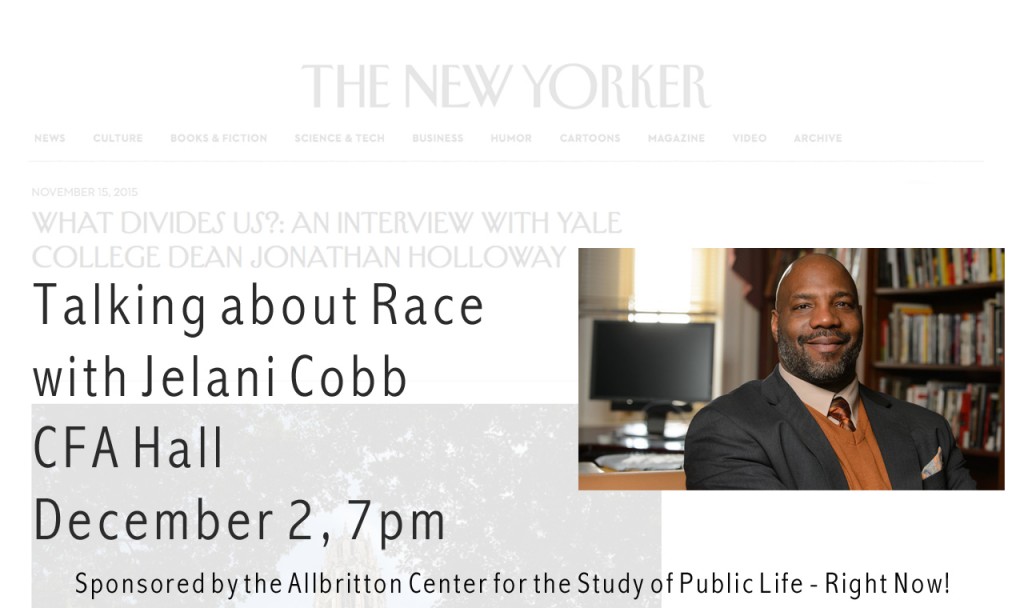 He Began Shining Hope for Communities with a Soccer Ball
On Friday, November 6th, Wesleyan hosted a WESeminar: Find Me Unafraid: Love, Loss, and Hope in an African Slum. Kennedy Odede '12, founder of SHOFCO, spoke about developing a community organization in Kibera, Nairobi, meeting his wife, Jessica Posner Odede '09 through is work, and graduating from Wesleyan. Kennedy and Jessica shared their story through their novel Find Me Unafraid: Love, Loss, and Hope in an African Slum. Kennedy started Shining Hope for Communities with a soccer ball and a commitment to building strength and hope in his community. It grew to support a community theater initiative, a school for girls, housing for students in dangerous situations, a community health center, and a water sanitation initiative. SHOFCO inspired young people in Mathare, Kenya's second-largest slum, to start their own initiative. After his talk, Kennedy signed copies of his books for the audience.
Ron Young is a Consultant for the National Interreligious Initiative for Peace of the National Interreligious Leadership Initiative. 
Ron works with leaders of 25 U.S. Jewish, Christian and Muslim national religious organizations to develop consensus advocacy positions and mobilize public support for active, fair and firm U.S. leadership for Arab-Israeli-Palestinian peace.- NILI
He is the author of Missed Opportunities for Peace: U.S. Middle East Policy, 1981-86 and has presented widely on interreligious peace. He has been working on the Palestinian-Israeli struggles and other Middle East issues for over 30 years. Ron is coming to campus from Wednesday, November 4- Sunday November 8th. During the week, he will be available at three talks, hosted by the Allbritton Center for the Study of Public Life.
          How Students can be Pro-Israeli, Pro-Palestinian, Pro-Justice and Pro-Peace and Work Together to Help Get There
                     Wednesday, November 4, 7:30pm, Allbritton 311 
          Iran Nuclear Deal/ISIS in Iraq and Syria/Israel-Palestine: New US Approaches Needed in the Middle East
                      Thursday, November 5, 7:00pm, PAC 004
After Charleston: Next Steps in the Movement for Social Justice

 The panel featured Bree Newsome, Professor Clemmie Harris, Bishop John Selders, and Tedra James. "The idea is to spur conversation with the audience about the killings in Charleston, reactions to killings, debate over the Confederate flag, and protests in Ferguson," said Rob Rosenthal, director of the Allbritton Center for the Study of Public Life, John E. Andrus Professor of Sociology. "The question that each speaker will address is, 'What now? Where are we in this long, long, long struggle for social justice—that is, equal rights, equal opportunities for everyone in the country—and what needs to happen next?' Each panelist spoke for about 10 minutes, and was given the opportunity to respond to anything the other speakers said. Then the panel was opened up to the audience to state their own opinion, and ask questions of the audience.
The panel is cosponsored by the African American Studies department and the Office of Equity and Inclusion.
September 17, 2016
8:00pm, PAC 001
Ron Bloom '77 We Almost Lost Detroit: A Hopeful Tale About Cars, Crisis, Cities and America
Ron Bloom '77 – Obama's "Auto Czar" and one of Time Magazine's 100 Most Influential People in the World – came to campus on Wednesday, April 8 to discuss lessons learned in his career in politics and finance, particularly in the auto industry bailout and in addressing the City of Detroit's bankruptcy.