Center for Creative Youth
on hiatus until further notice
UPDATE ON THE CENTER FOR CREATIVE YOUTH 
(11/16/2020)
With the onset of the COVID-19 pandemic, Wesleyan made the difficult decision to cancel all summer events on campus in 2020, putting CCY on hiatus for the summer. While we had hoped to bring the program back on campus in 2021, we realized that we cannot do so, as the pandemic continues to bring risk and uncertainty to us all.
We considered at length the notion of offering an online version of CCY in the interim. However, the on-campus, residential experience provides a crucial aspect of this program: The deep, rich interpersonal connections CCY students make with one another, growing and sharing as artists. Therefore, until the pandemic is behind us, the Center for Creative Youth will continue its hiatus. For over four decades, CCY has been a vibrant part of the summers here at Wesleyan. Our sincere hope is that the program will be revived for 2022.
For future communications, email ccy@wesleyan.edu 
---
Wesleyan's Center for Creative Youth (CCY), is a precollege summer residency program in the arts for students ages 14–18. Talented high school students from across Connecticut, the United States and around the world will gather for four weeks of intensive study in the arts.
FOCUS on Music, Theater, Visual Arts, Musical Theater, or Creative Writing
EXPLORE new art forms in master class workshops with visiting artists
CONNECT to a community of young artists from across the U.S. and abroad
CHALLENGE yourself to discover your artistic voice
Please click on the words in the MENU to the left for more information on each subject. 
The program features daily arts classes in a variety of concentrations, including creative writing, music, musical theater, theater, and visual arts. Additionally, students participate in elective intensives, a series of classes that encourage students to explore art forms outside of their main concentration, or to deepen the study of their chosen art form. In each of the art disciplines, students gain hands-on experience in an advanced, progressive curriculum emphasizing critical thinking, interdisciplinary and multicultural learning, leadership skills, and historical context. World class shows, Master classes, workshops, field trips, dances, open mic nights and share days throughout the program fill the summer with creative inspiration. Students leave CCY with a better perspective on career and higher education choices.
CCY has a celebrated history of recruiting students from across the United States and beyond who come together to explore their art form on a deeper level and to connect to young, creative minds like their own. The culture created by a staff of professional artists, teachers, residential advisors and administrators is one of nurturing acceptance and progressive encouragement. The program accepts 60-80 students, creating a diverse ethnic, economic, and cultural community. Students range in age from 14-18. Students must have completed at least one year of high school to be eligible for the program.
With a 40+ year history of excellence, many students and families have found the program to be "life-changing," providing focus, validation and motivation to future leaders of the artistic community.
For more information: email ccy@wesleyan.edu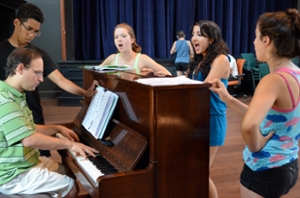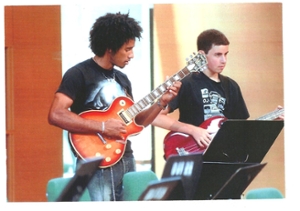 ON HIATUS UNTIL FURTHER NOTICE