Fulbright Step by Step
How to Apply for Fulbright through Wesleyan
Both recent alumni and rising seniors are welcome to apply for a Fulbright award through our campus process. Download a PDF overview of the process at this link.

Learn about Fulbright
Book an initial fellowships conversation with Fellowships staff to talk about your intentions and weigh decisions
Finalize your choice of program (ETA vs. Study/Research or Creative Arts) and country
Create your account in the Fulbright online application portal
Schedule writing time and draft your essays, starting with your Statement of Grant Purpose

Consult resources from the Fellowships office on this topic:
Take advantage of online writing sessions, June through August.  (Fill out the online form for writing sessions.)

Revise, revise, revise!

Get feedback from peers, mentors, Writing Workshop peer tutors, and Fellowships staff; take time to reflect on your experiences and seek resources for how to communicate your passion. Book a draft review appointment with a fellowships advisor ahead of time or as needed. Booking the appointment ahead is great for accountability! Submit your draft (via the Google Form) at least 24 hours before the meeting time (Word document preferred; Google Doc ok).

Where language proficiency is required, take steps to request a Foreign Language Evaluation
Meet the campus deadline (September 13, 2022): submit all final materials online by this date.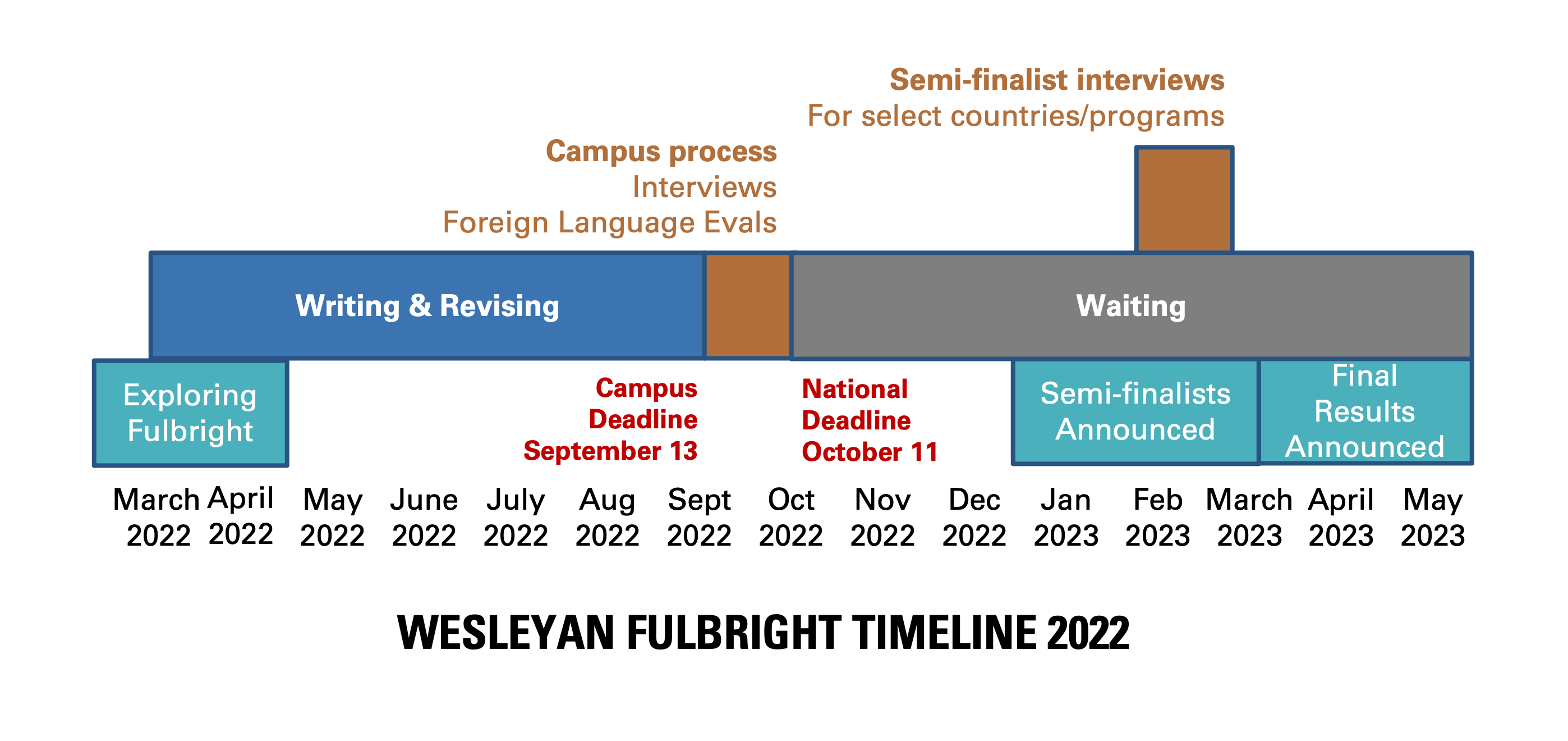 Additional Resources
Below you will find a series of Google docs with advice on various elements of the Fulbright application and healthy writing habits, in the format of weekly/biweekly newsletters, arranged from earliest to latest. (Wesleyan login required.)