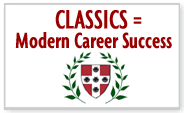 Classicists have the Highest LSAT scores  
& highest combined GREs of any major! 
Faculty News
Andrew Szegedy-Maszak has been appointed as Wesleyan's First Distinguished Teaching Fellow.
Andrew Szegedy-Maszak is offering a free online course, "The Ancient Greeks," through Coursera Partnership.
After Wes
Brigid Dwyer '05    "I found my background in Classics to be quite valuable as a law school student and even more so once I began practicing."
FACULTY NEWS
WES FEST HOMERATHON:  Classical Studies faculty and students read Homer's Odyssey out loud at locations all over campus.  See map with locations and specific information about the Homerathon.
Professor Kate Birney's CCIV 244 class visits Harvard 3D Visualization Center.
Professor Andy Szegedy-Maszak: