Crying Out Loud: Literature and the Birth of Politics
Guest Speaker: Geoffrey Bennington, Emory University
May 6th, 5:00-6:30 pm
ZOOM: HTTPS://WESLEYAN.ZOOM.US/J/96429143290
Co-sponsored by: The Center for Humanities, The Theory Certificate, and the College of Letters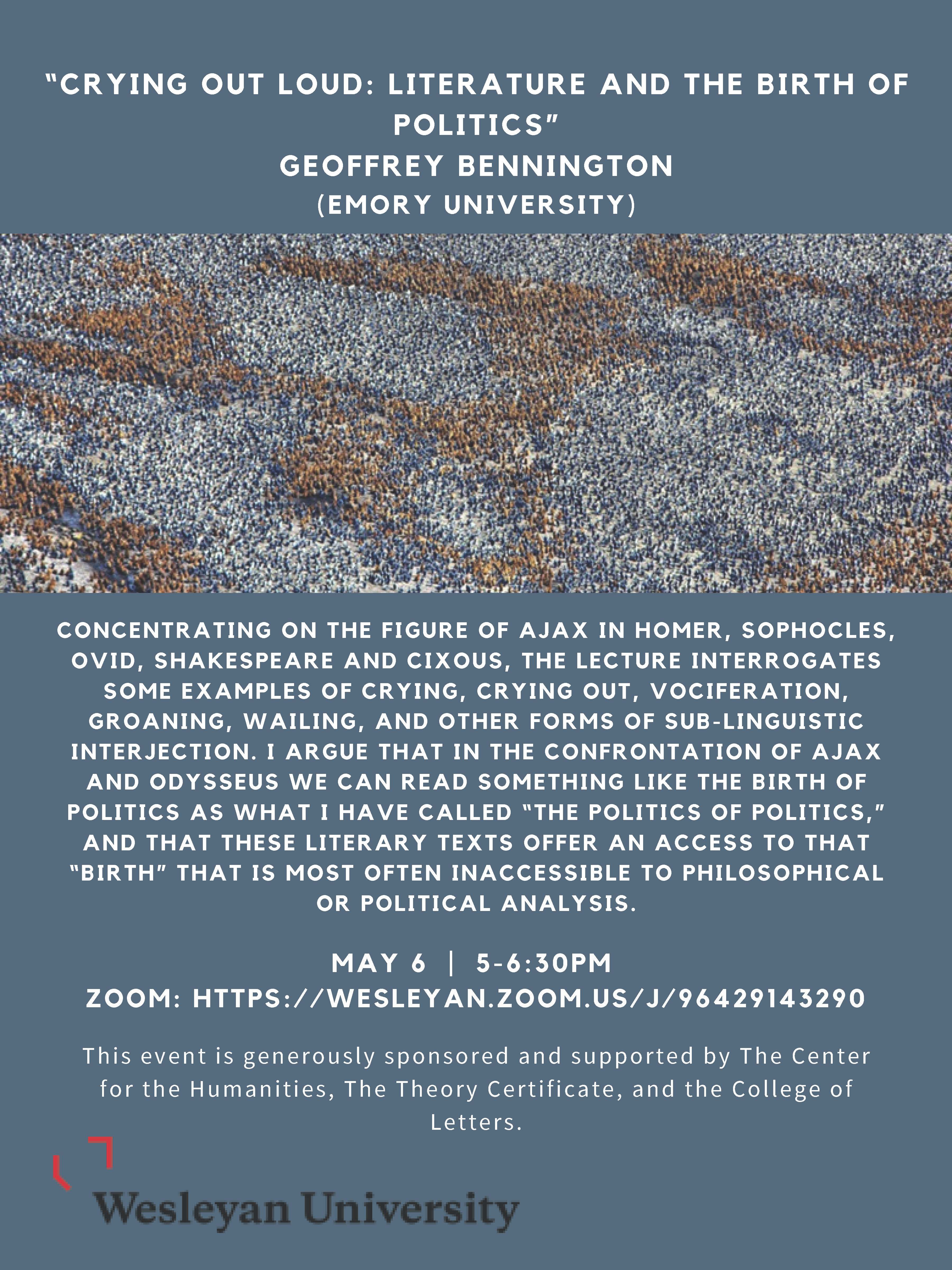 The Wesleyan Argus Writes about the COL's path Toward Inclusivity & Diversity
Read about how the COL revamped its declaration process; a step towards greater inclusivity. 
http://wesleyanargus.com/2021/03/04/addressing-ujamaa-demands-college-of-letters-amends-major-declaration-process/

College of Letters Annual Hallie Lecture
April 14, 2021, 4:30-6:00 pm
Zoom:  https://wesleyan.zoom.us/j/95278143770
College of Letters Nonfiction Speaker Series
April 15th at 4:30 pm, via Zoom
Jennifer Gonnerman, National Book Award finalist and New Yorker staff writer on criminal justice issues will discuss her work.
March 18th at 4:30 pm, via Zoom
Katha Pollitt, essayist, poet, and The National columist will be reading and speaking about her work.
March 4th at 4:30 pm, via Zoom
Pulitzer Prize-winning author and New Yorker writer William Finnegan will be talking about his latest book, Barbarian Days: A Surfing Life. This event is co-sponsored by "Writing at Wesleyan."