Our Work
In addition to providing communications services to the Wesleyan campus community, the Office of University Communications publishes or contributes to the following: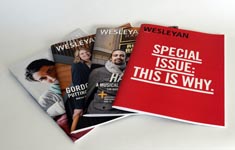 Wesleyan Magazine
Wesleyan
magazine is published three times each year for an audience of 27,000 alumni, parents and friends of the University.
Wesleyan Connection
The twice-monthly Wesleyan Connection e-newsletter highlights the achievements of the Wesleyan community, both on campus and off. Visit its daily news site at News @ Wes.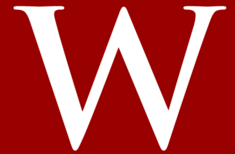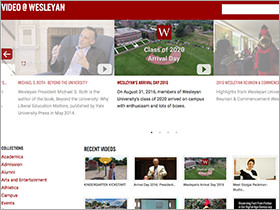 Video @ Wesleyan
Our video services team provides video planning, production and post-production services, including recording and editing services, motion graphics, and maintenance of the university's video distribution portals: Wesleyan's
Video @ Wesleyan
gallery,
YouTube
channel and
iTunes U
channel.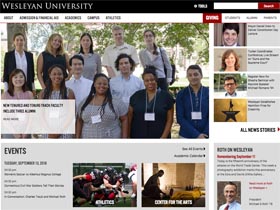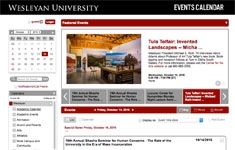 Wesleyan University Events Calendar
Our office is responsible for overseeing the
Wesleyan University Events Calendar
and for managing calendar listings on the Wesleyan homepage.