Logos
There are three treatments of the Wesleyan logo: the Wesleyan Cover Stamp, the Wesleyan Stacked Stamp, and the Traditional Logo. In addition to these, the Athletic Department has specific sports logos. Each one has a specific purpose and a set of guidelines that must be followed. Every publication must have a Wesleyan stamp with the exception of business cards and stationery (when the traditional logo is used.) Wesleyan stamps may also be used for WesGear.
How to Use This Section:
Included in this section are images to be used for placement only. If you wish to lay out your design in Word (or some other program you are comfortable with), right click on the image of your choice and download the gif files FOR PLACEMENT ONLY. Do not give them to your print vendor, instead supply them with the corresponding eps file. Inform the vendor that Wesleyan red is PMS 200. Correct use of the logo can be more complicated than it appears. Do not hesitate to consult the Office of University Communications' publications staff.
Wesleyan Logo Stamp
The Wesleyan Logo Stamp must appear on the front cover of every publication. There are three color variations of the logo stamp which can be used.

Sports Logo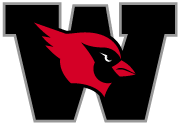 This logo may be used for WesGear or by the athletics department. The Wesleyan sports logo consists of the cardinal and the W. They may be used alone, together, or combined with appropriate text in seven specific arrangements.