Recent News

Environmental Studies Artist Books
Since 2014, students in E&ES197: Introduction to Environmental Studies have had the option to create an artist book for their final project. This spring, with support from the CFA's Creative Campus Initiative, Adjunct Assistant Professor of Environmental Studies Helen Poulos offered those students some expert, socially-distanced mentoring from local artists. Wesleyan's Visiting Assistant Professor of art Ali Osborn recorded bookmaking video tutorials from his home studio; and New Haven-based artist Joseph Smolinski joined a Zoom session to critique student work (including an artist book, shown above, by Emma Singleton '23). Each semester, the class votes on the most creative and interesting books; over the years, more than 30 of these have been selected for inclusion in the Wesleyan Library's Special Collections & Archives and are available for viewing.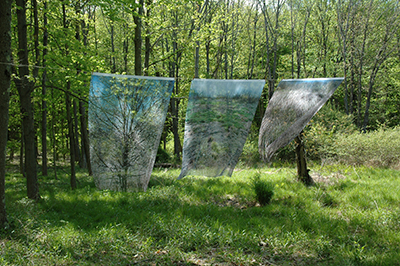 Profound Collaboration
Read Profound Collaboration: The Creative Campus Initiative from the Wesleyan University Magazine Online Exclusives.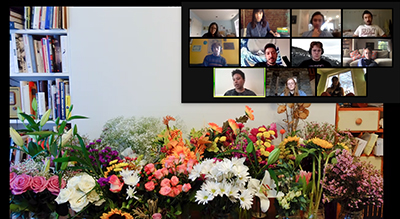 A Virtual Creative Campus
When Wesleyan moved to virtual learning in mid-March, we knew that professors across campus would be reimagining their syllabi—and that artists everywhere would be reimagining the purpose and possibility of their work in this unprecedented time. CCI's mission since 2006 has been to connect Wesleyan faculty with artists—and to catalyze cross-disciplinary collaborations that elevate the arts as a way of teaching, learning, and knowing. What better time than now, we thought, to bring those collaborations online? 
Read more about these collaborations.