Meet Chaplain Malik Shakoor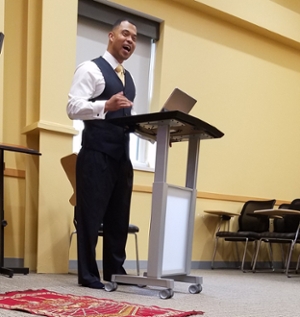 Chaplain Malik Shakoor is the Muslim Chaplain at Wesleyan University. Malik has a deep educational background and currently holds five degrees which include: Associates in Financial Accounting and Associates in Fine Arts (Spoon River College), Bachelors in Entrepreneuaral Studies (Univ. of Maine), Masters of Arts in Interfaith Ministry (Claremont Lincoln Univ.), and a Masters in Islamic Chaplaincy and Christian-Muslim Relations (Hartford Seminary). In addition to his work at Wesleyan, Malik serves as a Chaplain/Officer in the U.S. Air Force Reserve and holds the rank of 1st Lieutenant. He is 1 of 14 Muslim Chaplains across the Department of Defense (DOD). He also assists as a major resource for Army Reserve Soldiers, Spouses, and Veterans to find employment opportunities.
Malik has worked with and in the American Muslim community over the past decade. He's has been the Assistant Imam at Fort Hood in Texas, Chaplain Tour at the Air Force Academy, Chaplain Tour at Lackland Air Force Base in which has the largest Muslim population across the DOD, and a devout member of the community and all while being a part of a pluralistic environment. Malik is more than just a Chaplain he also serves as a life coach, public speaker, motivational speaker, as well as a husband and father of two lovely daughters. He enjoys daily the daily activities of going to the gym, reading and spending time with his family.