Movement House and Eclectic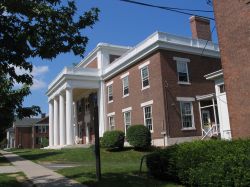 200 High Street
Movement House
To establish an inclusive residence space for creatives who are particularly interested in dance. To share, collaborate, choreograph and lead the large dance community on campus. To throw functions that showcase and support performing artists. To bring outside dancers, dance groups and choreographers to campus. To promote different types of dance and make dancing and dance education more accessible to Wesleyan students and the Middletown community. 
Eclectic
The Eclectic Society comrpises a heterogeneous roster of creative, passionate individuals committed to providing collaborative artistic envrionments and discussion spaces to students from every corner of campus. Within our own consensus-based organization, e concentrate on the cooperative development of different leadership styles. We organize workshops and host concerts, art shows, and other events to promote diverse thinking, with emphasis on elevating underrepresented perspectives and radical ideologies. We believe in the importance of curiosity, humor, self-growth, community, and social justice. 
Lead Paint Disclosure
Housing built before 1978 may contain lead-based paint. Lead from paint, paint chips, and dust can pose health hazards if not taken care of properly. Lead exposure is especially harmful to young children and pregnant women. Before renting pre-1978 housing, landlords must disclose the presence of known lead-based paint and lead-based paint hazards in the dwelling. Tenants must also receive a Federally approved pamphlet on lead poisoning prevention. The pamphlet may be viewed at:  The University recognizes that any housing built prior to 1978 may contain lead-based paint and/or lead-based paint hazards. By accepting your housing contract, you are affirming that you have reviewed the pamphlet Protect Your Family from Lead In Your Home.
All Wesleyan housing was built before 1978 with the exception of the following: Bennet Hall, Fauver Apartments, 19 Fountain Avenue, 20 Fountain Avenue, 25 Fountain Avenue, 231 Pine Street, and 14 Warren Street.
To request more information, including Lead Paint Reports, please contact our Physical Plant team here: Environmental Services
Lead Paint Reports for 200 High Street
---
Floor Plans
---
Applications