Farm House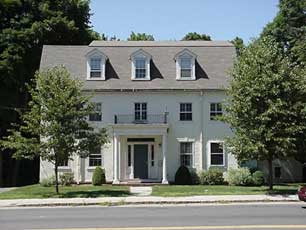 344 Washington Street
Farm House provides students interested in the politics and culture of food production and sustainability a place to cultivate a mutualistic relationship with the earth that provides them with their lunch everyday. The house seeks to bring together people who care about where their food comes from and how it got to their plates, in a space where they can discuss ways to help Wesleyan strive for responsible food attainment and distribution practices, and plan programs to increase awareness within the student body of the importance of responsible and sustainable farming techniques in this country. In this vein, residents will help each other and Wesleyan support and understand the agricultural landscape that s supports them, including cultivating an active relationship with Wesleyan's Long Lane Farm.
Lead Paint Disclosure
Housing built before 1978 may contain lead-based paint. Lead from paint, paint chips, and dust can pose health hazards if not taken care of properly. Lead exposure is especially harmful to young children and pregnant women. Before renting pre-1978 housing, landlords must disclose the presence of known lead-based paint and lead-based paint hazards in the dwelling. Tenants must also receive a Federally approved pamphlet on lead poisoning prevention. The pamphlet may be viewed at: http://www.hud.gov/offices/lead/library/enforcement/pyf_eng.pdf. The University recognizes that any housing built prior to 1978 may contain lead-based paint and/or lead-based paint hazards. By accepting your housing contract, you are affirming that you have reviewed the pamphlet Protect Your Family from Lead In Your Home.
All Wesleyan housing was built before 1978 with the exception of the following: Bennet Hall, Fauver Apartments, 19 Fountain Avenue, 20 Fountain Avenue, 25 Fountain Avenue, 231 Pine Street, and 14 Warren Street.
Lead Paint Reports for 344 Washington Street
---
Floor Plans
---
Applications