Haven House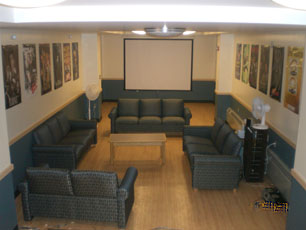 Nicolson - Foss 6 - lower level
Haven is a welcoming place for student groups who have historically been marginalized on campus: low-income, first-generation, those who do not go home during breaks for reasons of employment, inability to travel, or do not have housing outside of Wesleyan University, as well as for students looking for a homey space on-campus. Haven offers fun and engaging programs, building tight-knit community relationships within the low-income and first-generation student coalition groups as they journey through Wesleyan. Likewise, residents benefit from a feeling of community during times when there are few students on campus, being one of few spaces open during the winter holiday. Residents have use of a kitchen and common space in this cozy community, and enjoy connections to supportive resources on campus.
Lead Paint Disclosure
Housing built before 1978 may contain lead-based paint. Lead from paint, paint chips, and dust can pose health hazards if not taken care of properly. Lead exposure is especially harmful to young children and pregnant women. Before renting pre-1978 housing, landlords must disclose the presence of known lead-based paint and lead-based paint hazards in the dwelling. Tenants must also receive a Federally approved pamphlet on lead poisoning prevention. The pamphlet may be viewed at: http://www.hud.gov/offices/lead/library/enforcement/pyf_eng.pdf. The University recognizes that any housing built prior to 1978 may contain lead-based paint and/or lead-based paint hazards. By accepting your housing contract, you are affirming that you have reviewed the pamphlet Protect Your Family from Lead In Your Home.
All Wesleyan housing was built before 1978 with the exception of the following: Bennet Hall, Fauver Apartments, 19 Fountain Avenue, 20 Fountain Avenue, 25 Fountain Avenue, 231 Pine Street, and 14 Warren Street.
---
Floor Plans
---
Applications