Lotus House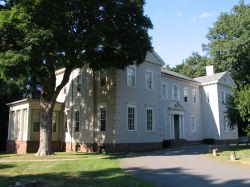 356 Washington Street
In Buddhist tradition, the Middle Way refers to the path that avoids extremes-- the path by which Buddha reached Enlightenment. Lotus House provides a space on campus for both Buddhist and non-Buddhist students to learn about Buddhism, explore Buddhist thought, and develop or maintain Buddhist practices. Lotus House focuses on facilitating a spiritual or mindful way of living that can coexist with life in a bustling university. We hold weekly meditation sessions, invite guest speakers, and promote Buddhism-related programs. Our residents are encouraged to keep their own practices. No background in meditation or Buddhism is required to live in Lotus House, only an interest in exploring both.
Lead Paint Disclosure
Housing built before 1978 may contain lead-based paint. Lead from paint, paint chips, and dust can pose health hazards if not taken care of properly. Lead exposure is especially harmful to young children and pregnant women. Before renting pre-1978 housing, landlords must disclose the presence of known lead-based paint and lead-based paint hazards in the dwelling. Tenants must also receive a Federally approved pamphlet on lead poisoning prevention. The pamphlet may be viewed at: http://www.hud.gov/offices/lead/library/enforcement/pyf_eng.pdf. The University recognizes that any housing built prior to 1978 may contain lead-based paint and/or lead-based paint hazards. By accepting your housing contract, you are affirming that you have reviewed the pamphlet Protect Your Family from Lead In Your Home.
All Wesleyan housing was built before 1978 with the exception of the following: Bennet Hall, Fauver Apartments, 19 Fountain Avenue, 20 Fountain Avenue, 25 Fountain Avenue, 231 Pine Street, and 14 Warren Street.
Lead Paint Reports for 356 Washington Street
---
Floor Plans
---
Applications