Open House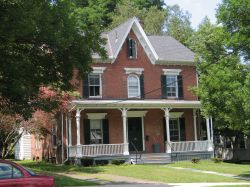 154 Church Street
Open House is for you and me and everything in the in-between. Open House works to be a welcoming space for non-normative sexuality and gender minorities, acknowledging this task is one of perpetual motion and action. The goals of Open House include generating interest in the celebration of queer life from the social to the political to the academic. Queer is a word with many meanings, and we embrace all and none of them. Open House works to create a Wesleyan community that appreciates the variety and the vivacity of gender, sex, and sexuality, and we work to be an anchor of the amorphous, chaotic, and beautiful queer community.
Lead Paint Disclosure
Housing built before 1978 may contain lead-based paint. Lead from paint, paint chips, and dust can pose health hazards if not taken care of properly. Lead exposure is especially harmful to young children and pregnant women. Before renting pre-1978 housing, landlords must disclose the presence of known lead-based paint and lead-based paint hazards in the dwelling. Tenants must also receive a Federally approved pamphlet on lead poisoning prevention. The pamphlet may be viewed at:  The University recognizes that any housing built prior to 1978 may contain lead-based paint and/or lead-based paint hazards. By accepting your housing contract, you are affirming that you have reviewed the pamphlet Protect Your Family from Lead In Your Home.
All Wesleyan housing was built before 1978 with the exception of the following: Bennet Hall, Fauver Apartments, 19 Fountain Avenue, 20 Fountain Avenue, 25 Fountain Avenue, 231 Pine Street, and 14 Warren Street.
To request more information, including Lead Paint Reports, please contact our Physical Plant team here: Environmental Services
---
Floor Plans
---
Applications