Nicolson 5, 6 and 7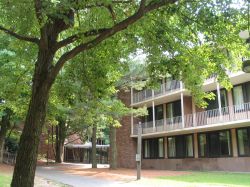 Click here for more photos
*With the exception of the All Men's Single Gender Hall, all bathrooms in Nicolson are multi-use, all gender bathrooms.
Nicolson 5, 6, and 7 are home to both first-year and upper-class students living together in the hall community. Most first year student live in double rooms; single rooms house most upper-class students. The buildings are home to a community kitchen, study lounges, social lounges and performance space.  The complex overlooks Foss Hill, a grassy scenic spot for lounging and socializing.
Upperclass students can apply to live in Substance free floor, Quiet floor, and the All Men Single Gender floors during housing selection. First year students can also participate in Single Gender Floors.
All Men Single Gender Hall (Rooms 55001 - 55009)
This hall of Nicolson serves as the all men floor where students who identify as men can live on a floor that only houses other students of the same gender identity.  Students wanting to live in this community should note that women and female identified individuals do enter this space as part of their jobs duties, including but not limited to: Resident Advisors, Area Coordinators, Public Safety, and Physical Plant.
Substance-free Floor (Rooms 5103-5114) 
The Substance-Free floor is a Community Based Living option. This floor is a co-ed community that boasts a supportive and healthy living option for students.  The residents who live in this area have agreed to abstain from the use of alcoholic beverages while on the floor; refrain from bringing these substances onto the floor; and pledge not to return to the floor under the influence of these substances.  By choosing to live on the Substance-free Floor, you choose to participate in a substance-free lifestyle.  
Quiet Floor (Rooms 6203-6212)    
The Quiet Floor is intended for students who are interested in living in a quiet residence. There is a 24-hour quiet hour policy, which stipulates that noise should be kept to a minimum level and not be heard outside of students' rooms. Students on the floor agree to not to engage in activities in the hallway that would generate noise and be disruptive to other residents. Upon arrival, you will be required to sign a contract agreeing to these provisions.
Lead Paint Disclosure
Housing built before 1978 may contain lead-based paint. Lead from paint, paint chips, and dust can pose health hazards if not taken care of properly. Lead exposure is especially harmful to young children and pregnant women. Before renting pre-1978 housing, landlords must disclose the presence of known lead-based paint and lead-based paint hazards in the dwelling. Tenants must also receive a Federally approved pamphlet on lead poisoning prevention. The pamphlet may be viewed at:  The University recognizes that any housing built prior to 1978 may contain lead-based paint and/or lead-based paint hazards. By accepting your housing contract, you are affirming that you have reviewed the pamphlet Protect Your Family from Lead In Your Home.
All Wesleyan housing was built before 1978 with the exception of the following: Bennet Hall, Fauver Apartments, 19 Fountain Avenue, 20 Fountain Avenue, 25 Fountain Avenue, 231 Pine Street, and 14 Warren Street.
To request more information, including Lead Paint Reports, please contact our Physical Plant team here: Environmental Services
---
Floor Plans
---
Applications