West College 1, 2, 3, and 4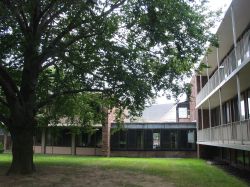 Click here for more photos
*All bathrooms in WestCo are multi-use, all gender bathrooms
Vision Statement 
A unique and historic Residence Hall at Wesleyan University, West College is an inclusive community that houses artistically inclined first years and upper-class residents devoted to creating a collaborative space for art, music, and student activism. Residents are encouraged to open their doors in order to foster a strong and inclusive community, and upper-class residents often take on mentorship roles with first year residents. With its very own student-run event space known as the Café, WestCo emphasizes community input and creative event planning. With weekly town hall-style meetings led by the four elected presidents, the WestCo community strives to uphold its shared values of diversity, respect, self-expression, and community-building. Additionally, WestCo seeks to embody a safe space for all residents and the larger Wesleyan community.
Objectives and Values
Residents are expected to take an active role in shaping the social, intellectual and living environment of WestCo where the community holds one another accountable to shared values and to goals that are continually evaluated. WestCo is held responsible to the larger community, while the University reciprocates with a commitment to a collaborative relationship.
Through Guidance, a weekly meeting opened to the entire WestCo, residents are encouraged to be involved in the community and the University. In the past, residents have organized music and arts events, lifestyle festivals, and informal education projects reflecting a commitment to a vibrant, expressive and socially conscious residential experience. WestCo welcomes all students who will actively contribute to the community and work for these goals.
Applications are not necessary for incoming first year students.
Lead Paint Disclosure
Housing built before 1978 may contain lead-based paint. Lead from paint, paint chips, and dust can pose health hazards if not taken care of properly. Lead exposure is especially harmful to young children and pregnant women. Before renting pre-1978 housing, landlords must disclose the presence of known lead-based paint and lead-based paint hazards in the dwelling. Tenants must also receive a Federally approved pamphlet on lead poisoning prevention. The pamphlet may be viewed at:  The University recognizes that any housing built prior to 1978 may contain lead-based paint and/or lead-based paint hazards. By accepting your housing contract, you are affirming that you have reviewed the pamphlet Protect Your Family from Lead In Your Home.
All Wesleyan housing was built before 1978 with the exception of the following: Bennet Hall, Fauver Apartments, 19 Fountain Avenue, 20 Fountain Avenue, 25 Fountain Avenue, 231 Pine Street, and 14 Warren Street.
To request more information, including Lead Paint Reports, please contact our Physical Plant team here: Environmental Services
---
Floor Plans
---
Applications