159 High Street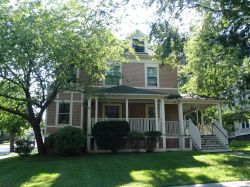 Six person house (Quiet Street)
Due to construction at the Science Center beginning in January 2023, this housing unit is only available for Fall 2022. Any group of students selecting this location will be expected to move into a new location on campus for the Spring 2023 semester. At the end of the fall semester, students can arrange with ResLife to leave their items in the house over winter break, and then retrieve them upon returning in the spring to a new residence. Standard point adjustments will be given to sophomores and juniors living in this house. 
House furnishings:
Common Area: couch, chair, end table and coffee table
Kitchen: kitchen table, chairs, refrigerator, stove and oven
Bedrooms: desk, chair, dresser and bookcase
Bed type in each room is as follows:
Bedroom 1: Twin XL
Bedroom 2: Twin XL
Bedroom 3: Twin XL
Bedroom 4: Twin XL
Bedroom 5: Twin XL
Bedroom 6: Twin XL
Lead Paint Disclosure
Housing built before 1978 may contain lead-based paint. Lead from paint, paint chips, and dust can pose health hazards if not taken care of properly. Lead exposure is especially harmful to young children and pregnant women. Before renting pre-1978 housing, landlords must disclose the presence of known lead-based paint and lead-based paint hazards in the dwelling. Tenants must also receive a Federally approved pamphlet on lead poisoning prevention. The pamphlet may be viewed at:  The University recognizes that any housing built prior to 1978 may contain lead-based paint and/or lead-based paint hazards. By accepting your housing contract, you are affirming that you have reviewed the pamphlet Protect Your Family from Lead In Your Home.
All Wesleyan housing was built before 1978 with the exception of the following: Bennet Hall, Fauver Apartments, 19 Fountain Avenue, 20 Fountain Avenue, 25 Fountain Avenue, 231 Pine Street, and 14 Warren Street.
To request more information, including Lead Paint Reports, please contact our Physical Plant team here: Environmental Services
---
Floor Plans
---
Applications