63 Pearl Street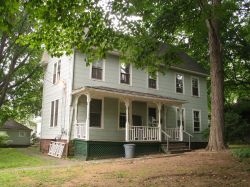 Program House
Earth House
We believe the current ecological crisis threatening the stability of our environment today is directly related to deep-seated social problems, and that the arena in which our planet's future will be decided is undoubtedly a social one.  Therefore, our community is created with the explicit intent of challenging traditional social structures and replacing them with new, creative and egalitarian alternatives.  We strive to commit ourselves to a community based on love, peace, sustainability, cooperative communalism, and human values as opposed to one based on concern for material goods.  Earth House is created as a safe, open, and respectful space to connect political action with the culture and philosophy of environmentalism through a diversity of approaches.  We aim to espouse the values and principles of social ecology, deep ecology, and eco-feminism as well as support each other in our experimentation and education with regards to environmentalism; to learn, to teach, to inspire, and to act as a resource for these issues on campus.  Earth House seeks to serve as an example of these ideals for Wesleyan and the greater community.  We strive to achieve sustainability in all realms of life and practice an environmentally conscious lifestyle.  By operating as a model of ecological living, and by being mindful of our impact on the natural world - namely through food, water, energy usage, and waste - we hope to demonstrate that a different world is possible.  Above all else, Earth House exists to honor and celebrate the interdependence between humanity and the natural world.
House furnishings:
Common Area: couch, chair, end table and coffee table
Kitchen: kitchen table, chairs, refrigerator, stove and oven
Bedrooms: desk, chair, dresser and bookcase
Room type is as follows:
Bedroom 1: double
Bedroom 2: double Bedroom 3: double Bedroom 4: single (HM room) Bedroom 5: double Bedroom 6: single
Total – 10 beds
Floor Plans:
Lead Paint Disclosure
Housing built before 1978 may contain lead-based paint. Lead from paint, paint chips, and dust can pose health hazards if not taken care of properly. Lead exposure is especially harmful to young children and pregnant women. Before renting pre-1978 housing, landlords must disclose the presence of known lead-based paint and lead-based paint hazards in the dwelling. Tenants must also receive a Federally approved pamphlet on lead poisoning prevention. The pamphlet may be viewed at:  The University recognizes that any housing built prior to 1978 may contain lead-based paint and/or lead-based paint hazards. By accepting your housing contract, you are affirming that you have reviewed the pamphlet Protect Your Family from Lead In Your Home.
All Wesleyan housing was built before 1978 with the exception of the following: Bennet Hall, Fauver Apartments, 19 Fountain Avenue, 20 Fountain Avenue, 25 Fountain Avenue, 231 Pine Street, and 14 Warren Street.
To request more information, including Lead Paint Reports, please contact our Physical Plant team here: Environmental Services
Lead Paint Reports for 63 Pearl Street
---
Floor Plans
---
Applications