Wesleyan PreCollege Study  
Due to the COVID-19 pandemic, Summer Session 2021 courses have been moved online.
Applications close on June 17.

College Credit Program for High School Students
Ready to experience college life?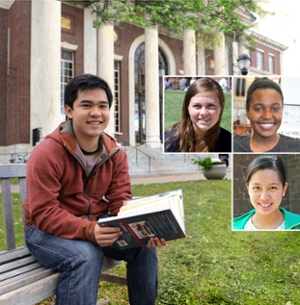 Are you wondering if a small, highly-selective liberal arts college is the right fit for you? Find out this summer with PreCollege Study at Wesleyan University.  
Wesleyan University offers a special college immersion opportunity for a select group of rising high school seniors during Summer Session II, Monday June 28 - Friday July 23, 2021 (exams July 26-27).
While the Residential program is not being offered this year due to the pandemic, Wesleyan welcomes PreCollege students to enjoy a Virtual Summer college experience!

Take full-credit courses along with Wesleyan undergraduates - 
Summer 2021 course descriptions can be accessed here.
Special Programming just for you!
Meet weekly with an undergraduate mentor to get the inside story on university life. Participate in events and discussions with your cohort about campus culture, admissions, study abroad, and more.  Engage in special orientation activities, meetings, and discussions on how to get involved in Social Justice issues through the curriculum and outside of class.  Attend personalized meetings with Professors and bi-weekly check-ins by staff to make sure you have the resources and supports you need.
While the PreCollege Study program (with its accompanying programming) takes place during Session II, PreCollege students are welcome to take classes in either Summer Session I and/or Summer Session II. Most courses meet daily and the homework expectation is high, so it is essential that students attend all class meetings.
Email study@wesleyan.edu if you have any questions.