Wesleyan University PreCollege Study:
Residential Program
Applications for Summer 2020 will be available soon. Click here to receive our newsletter - with updates, college search tips, and news about events!
Wesleyan PreCollege Residential Scholars are immersed in campus life for just over 4 weeks, discovering for themselves firsthand whether the small college liberal arts experience is for them. 
Eligibility
Students who will have completed their junior year of high school by June 27, 2020 are eligible to apply. Younger students will be considered on a case by case basis. Residential students in Session II must enroll in two courses; commuting students may enroll in one or two courses in either session. Students graduating from high school this spring and planning to begin college this fall are not are not eligible for the PreCollege Residential Scholar program. However, they are welcome to take Summer Session courses as Community Scholars. They may take as many courses as they wish; they may commute, or live in housing with the undergraduate students. Please click
here
for more information.
Curriculum
PreCollege students study side-by-side with undergraduates from Wesleyan and other institutions. Students are encouraged to take a writing course as one of their two course options in Summer Session. The program's focus on writing prepares precollege students for the challenge of writing papers when they begin their studies at highly competitive colleges and universities. All courses are offered for full college credit and are part of Wesleyan Summer Session.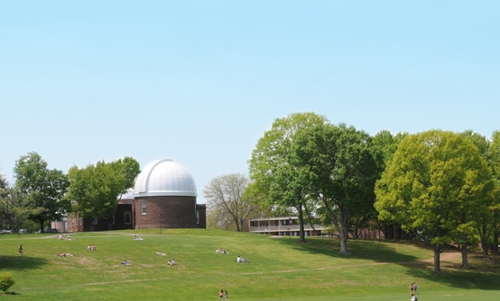 Writing Intensive = College Readiness
The focus on writing within the PreCollege Program's curriculum is designed to give precollege students the tools to write articulately and to strengthen their academic writing abilities. These college-level writing courses are taught with the intention of developing student writing both broadly and deeply -- an ideal skill to develop in preparation for college essays and other advanced writing endeavors. In addition, the faculty mentor will work with students to develop and strengthen their academic writing skills.
Focus on the Liberal Arts
Course offerings in the Arts, Sciences, and Social Sciences allow students to create a college course experience supported by their own interests - or let them explore something new, taught by Wesleyan's renowned faculty.
Faculty Mentor Program: Learning beyond the classroom
In addition to our outstanding residential activities, Wesleyan offers the exclusive opportunity for precollege students to be mentored by Wesleyan faculty. A member of Wesleyan's renowned faculty will meet regularly with students in formal and informal settings, answering questions about academic life and discussing the college admission process, first-year student issues, maximizing their academic potential and advising them on post-baccalaureate options. Mentor relationships build a stronger learning base than classroom teaching alone can achieve. Students will strengthen their friendships within the cohort as they gain invaluable insight into what college holds in store for them, as well as the strategies they will need to succeed.
Social Justice Leadership Certificate
Acclaimed for its proactive stance on issues of justice, diversity, and social progress, Wesleyan is an ideal place for students with interests in these areas to receive firsthand leadership training. Wesleyan's professional staff have created a four-part discussion-based social justice training program that will introduce students to larger concepts behind ethics, equity, inclusion, bystander intervention, and will prepare students to manage interpersonal and social conflict. Upon completion, students will be better prepared for collegiate leadership roles, and have a greater capacity for impact as world citizens. Students who attend all meetings of the training will be awarded a certificate of completion.
Please note: this program is included in the Comprehensive Residential Fee; commuting students may participate for an additional fee.
Residential Life
Students will live as a cohort in one of Wesleyan's comfortable air-conditioned residences, with two Residential Fellows. Fellows plan and implement extracurricular programming, take students on excursions, and provide non-academic advising through scheduled "hall meetings" as well as open-door hours. RA duty coverage and members of the ResLife professional staff are on call 24/7.
Tuition
Residential Scholars must take two college-credit courses. The residency fee covers room, dining and the programs described on this page, as well as on-campus and off-campus activities and events. Tuition per course for 2020 is $3,500 (tuition for 2 courses is $7,000). The 2019 residency fee was $3,520 (the 2020 fee will be posted soon).
Email precollege@wesleyan.edu for more information about participating in Wesleyan Summer Session as a high school student and residential scholar.