BAX 2020
Best American Experimental Writing
Guest Editors: Joyelle McSweeney & Carmen Maria Machado
Submissions are currently closed. 
JOYELLE MCSWEENEY is the author of eight books of poems, fiction, drama and essays. Her first book, The Red Bird (2001), was chosen by Allen Grossman to inaugurate the Fence Modern Poets Prize. Her other books of poetry are The Commandrine and Other Poems (2004) and Percussion Grenade (2012). She is the author of two novels and a collection of stories Nylund, the Sarcographer (2007), Flet (2007) and Salamandrine, 8 Gothics (2013). Her verse play, Dead Youth, or the Leaks (2014), won the inaugural Leslie Scalapino Prize for Innovative Women Performance Artists. The Necropastoral: Poetry, Media, Occults (2015), a work of eco-criticism, was published by the University of Michigan Poets on Poetry Series in 2015. McSweeney is the co-founder of the international press, Action Books, and Professor of English at the University of Notre Dame.
CARMEN MARIA MACHADO is the author of the story collection Her Body and Other Parties and the memoir House in Indiana (forthcoming in 2019), both from Graywolf Press. She is a fiction writer, critic, and essayist whose work has appeared in the New Yorker, Granta, Tin House, Guernica, NPR, Gulf Coast, Best American Science Fiction & Fantasy, Best Horror of the Year, Year's Best Weird Fiction, Best Women's Erotica, and elsewhere. She is the Artist in Residence at the University of Pennsylvania, and lives in Philadelphia with her wife.
Series Editors: Seth Abramson & Jesse Damiani
SETH ABRAMSON
is an assistant professor of journalism, 
law, literature, and 
creative writing at University of New Hampshire, 
the Executive 
Editor of the forthcoming scholarly journal Metamodern Studies, 
and the author of eight books, including Golden Age (BlazeVOX, 2017) and The Insider's Guide to Graduate Degrees in Creative Writing (Bloomsbury, forthcoming 2018). His freelance journalism and political analysis can be found on CNN, NPR, the BBC, The Washington Post, and elsewhere.
JESSE DAMIANI
 is the author of 
@endless$pectator: The Screens Suite #loliloquy
 (BlazeVOX, forthcoming), Editor-at-large of 
VRScout
, and Co-Founder of Galatea, a writing and project management tool for immersive storytelling. He was the 2013–2014 Halls Emerging Artist Fellow at the Wisconsin Institute for Creative Writing, and now splits time between Los Angeles and Silicon Valley.
Managing Editor: Michael Martin Shea
MICHAEL MARTIN SHEA
 is a former Fulbright Fellow to Argentina. His poems have appeared in Conjunctions, jubilat, Colorado Review, Pleiades, PEN Poetry Series, and elsewhere. He lives in Las Vegas, Nevada, where he teaches history.
---
Previous Editions:
SPRING 2018
BAX 2018
Myung Mi Kim, Guest Editor
MYUNG MI KIM is a Professor of English and Director of the Poetics Program at the University of Buffalo. Kim's books include Penury (Omnidawn), Commons (University of California Press), DURA (Sun & Moon and Nightboat Books), The Bounty (Chax Press), and Under Flag (Kelsey Street Press), winner of The Multicultural Publisher's Exchange Award of Merit. Her fellowships and honors include awards from the Fund for Poetry, the Djerassi Resident Artists Program, Gertrude Stein Awards in Innovative North American Poetry, and the State University of New York Chancellor's Award for Excellence in Scholarship and Creative Activity.
BAX 2016
Charles Bernstein & Tracie Morris, Guest Editors
CHARLES BERNSTEIN is author of Recalculating (University of Chicago Press, 2013), Attack of the Difficult Poems: Essays and Inventions (Chicago, 2011), and All the Whiskey in Heaven: Selected Poems (Farrar, Straus and Giroux, 2010). He is Donald T. Regan Professor of English and Comparative Literature at the University of Pennsylvania, where he is co-director of PennSound.
TRACIE MORRIS is a poet who has worked extensively as a page-based writer, sound poet, critic, scholar, bandleader, actor and multimedia performer. Her most recent book, handholding: 5 kinds, came out in 2015 from Kore Press. Tracie is Professor and Coordinator of Performance + Performance Studies at Pratt Institute, Brooklyn, New York. 
BAX 2015
Douglas Kearney, Guest Editor
DOUGLAS KEARNEY is a poet, performer, and librettist. He is the author of Someone Took They Tongues, Mess and Mess and, Patter, and The Black Automaton. He lives in Los Angeles. Visit Kearney's website here.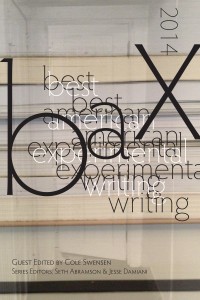 BAX 2014
Cole Swensen, Guest Editor
(pubished by Omnidawn)
COLE SWENSEN "is the author of 13 books of poetry, including Gravesend (U. of California, upcoming 2012) and a book of essays Noise that Stays Noise(U. of Michigan, upcoming 2011). She's also the co-editor of the 2009 Norton anthology American Hybrid and the founder and editor of La Presse, a nano-press dedicated to contemporary French work in translation." Visit Swensen's web page here. 


---
Best American Experimental Writing ("BAX" for short) is a critically acclaimed literary anthology compiling the best experimental writing in poetry, fiction, and creative nonfiction. Each volume has been currated using content chosen by the series editors, guest editors, and content submitted through our submission process (described below).          
How does the submission process for BAX work?
The guest editor chooses 60% of the content; the series editors, 20% of the content, and at least 20% of the content is chosen from submissions received via the submission process described below. We say "at least 20%" because some of the writing chosen by the guest editor and series editors may include submissions we receive via the submission process.           
General Guidelines for Submissions
Only online submissions are accepted; entries must be received via our Wesleyan online Submittable web page (submissions for BAX 2019 will open September 1st, 2017). This is a two-month open reading period for all writers, with no limitations on the amount or type of writing a writer has published previously. A minimum of 20% of the selections for each edition of Best American Experimental Writing will be made by the series editors, with the assistance of the guest editor, from unsolicited submissions received during this open reading period via Wesleyan's Submittable web page.
Please do not include any acknowledgments with your submission, or any identifying information on or in the submitted pieces themselves (for instance, do not include a cover letter, letterhead, header, footer, or literary biography). All unsolicited submissions from Wesleyan's Submittable web page are read blindly by the guest editor, series editors, and a small number of preliminary readers.
The cost for submission is $9 for three pieces of writing or nine pages (whichever is fewer). Multiple submissions during this two-month reading period are both permitted and encouraged; however, a separate reading fee will be required for each 3 pieces of writing or 9-page submission.
The pieces of writing may have been previously published in literary magazines, anthologies, or single-author collections, though this is by no means required. Likewise, pieces of writing may be published subsequent to submission, as the anthology asks only for world serial rights for any poem(s) selected, not first serial rights. Our only requirement is that previously published pieces of writing submitted to the anthology be first published (whether in print or online) in 2017, and not in previous years.
Simultaneous submissions to other venues are permitted and encouraged. If your work is selected for the anthology, we will ask you to inform us of any previous publication of the poem(s) so that this can be properly acknowledged in the anthology.
If you have ever been a colleague, student, and/or close friend of the guest editor, managing editor (Michael Martin Shea), or the series editors (Seth Abramson and Jesse Damiani) there is a question on the Wesleyan Submittable web page where you can indicate any editors with whom you have had such a relationship. Please indicate such a relationship with an editor or editors, so your submission can be read by someone other than the editor or editors you know.
Selections for the anthology will be announced publicly in spring 2018. We may ask to excerpt selected pieces of writing for the anthology or for promotional purposes; however, work will not be excerpted or used for promotion without prior permission from its author(s).            
Additional Guidelines and CLMP Compliance
Neither this anthology nor its Editors or Publishers subscribe to a single definition for the term "experimental writing." No definition suffices; experimentation in the literary arts is by definition a moving target. Individual submitters must decide for themselves whether their work sufficiently challenges conventional literary mores to warrant submission to this project. While we anticipate that the bulk of submissions and selections will be authored by individuals who at least partially self-identify as poets, and that the bulk of submissions and selections will exhibit some manifestation of form or concept that reasonably may be attributed to a poetic impulse, our interest is equally in genre, cross-genre, and non-genre work. Consequently, no author should feel excluded from this open reading period on the grounds that she or he does not primarily write or publish work written under the sign of contemporary American poetry. Our focus, instead, is simply on literary work--of any vintage or variety--that pushes boundaries rather than conforming neatly to existing literary phenomena.
Wesleyan abides by The Council of Literary Magazines and Presses (CLMP) Code of Ethics. The CLMP community of independent literary publishers believes that ethical submission and editorial guidelines for open reading periods and book contests serve our shared goal: to connect writers and readers by publishing exceptional writing. We believe that intent to act ethically, clarity of guidelines, and transparency of process form the foundation of an ethically-run open reading period or book contest. To that end, Wesleyan, its annual guest editors, and its series editors agree 1) to conduct our open reading period for Best American Experimental Writing as ethically as possible, and to address any unethical behavior on the part of Wesleyan staff, guest editors, series editors, or preliminary readers; 2) to provide clear and specific guidelines for the reading period, including defining conflicts of interest for all parties involved; and 3) to make the mechanics of our selection process readily available to the public. The CLMP Code of Ethics recognizes that different selection models produce different results, but that each model can be run ethically. Wesleyan has adopted the Code for its Best American Experimental Writing open reading period to reinforce our integrity and dedication as a publishing community and to ensure that our open reading periods contribute to a vibrant literary heritage.