Courses
The Great War to End All Wars
Join us as we take an in-depth look at WWI with three lectures, a Q&A, and a viewing of Paths of Glory (1957), followed by discussion. The three lectures to anticipate are as follows:
The War That No One Wanted and the Peace That Never Was:  From August 1914 to Versailles
BY HERBERT ARNOLD, Professor of German Studies and Letters Emeritus
Germany's "World Policy" and the Origins of the First World War: A Reassessment
BY ERIK GRIMMER-SOLEM, Associate Professor of History
Russia and the Great War:  The Treaty of Brest-Litovsk and Its Aftermath
BY PHILIP POMPER, Professor of History Emeritus
Herbert Arnold , Erik Grimmer-Solem & Philip Pomper
Saturday, November 19 | $125 | Allbritton 311
9 A.M.–12:30 P.M. Lectures with a Q&A and a coffee break.
12:30–1:30 P.M. Lunch, to be provided.
1:30–4 P.M. Viewing of Paths of Glory,
followed by a discussion.
Course Instructor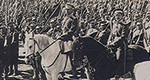 HERBERT A. ARNOLD is professor of German studies and letters emeritus.  After more than 40 years of teaching at Wesleyan, including the MAT and GLS programs, he is revisiting some of his early research interests, involving the European Baroque era, and continuing work on a biographical-historical investigation of Central European history in the 20th century. Most of his work in the past has centered on the intersection between history and literature in a pan-European context, and his publications range in time and subject matter from late 15th-century manuscripts to contemporary popular culture.
ERIK GRIMMER-SOLEM received his DPhil from Oxford University in 1999 and joined Wesleyan's History Department in 2002. Prior to this he held appointments at the University of Chicago and Balliol College, Oxford. He is the author of The Rise of Historical Economics and Social Reform in Germany, 1864–1894, published in 2003. His scholarly articles have appeared in such journals as the Leo Baeck Institute Year Book, German History, the Journal of World History, History and Theory, the Militärgeschichtliche Zeitschrift, and numerous edited volumes. His work uncovering the war crimes of a Wehrmacht general honored in postwar Germany was discussed by the German newsmagazine Der Spiegel and prompted a debate in the Bundestag, which led to the renaming of a German Luftwaffe base in 2015. He has received awards and fellowships from the Fritz Thyssen Foundation, the Leverhulme Trust, and the University of Chicago and has won both Wesleyan's Carol A. Baker and Binswanger Prizes for Excellence in Teaching. A new book, Empire of Minds:  Economists, Globalization and the Making of German World Policy, 1880–1914, will be published in 2017.
PHILIP POMPER received his BA (1959), MA (1961), and PhD (1965) from the University of Chicago. While writing his dissertation in 1964, he joined the Wesleyan faculty as an instructor. He taught at Wesleyan for 46 years and retired in 2010. Aside from teaching courses in Russian history, psychohistory, historical theory, and world history, he took advantage of Wesleyan's generous sabbatical and leave program. It allowed him to research and write and edit books and articles mainly on Russian history, psychohistory, world history, and the theory of history.