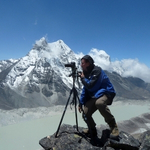 Saturday, October 30, 2021
11 am to noon
Exley Science Center, Room 150
FREE and open to the public

The development of glacial lakes from receding glaciers, contained by either terminal moraines or bedrock, is commonly linked with global warming trends that have occurred since the end of the Little Ice Age (LIA). Such lakes are prone to sudden and catastrophic drainage, popularly known as glacial lake outburst floods (GLOF). Although GLOFs continue to dominate the focus of both peer reviewed and popular media articles alike, a range of other cryospheric processes and hazards exist that are in need of further research attention and mitigation technologies.
Join Alton C. Byers, PhD, the Menakka and Essel Bailey '66 Distinguished Visiting Scholar in the College of the Environment, for a multimedia discussion of englacial conduit floods, periodic and recurrent flooding of lakes created by glacier- or ice-dammed lakes, permafrost-linked rockfall and debris flows, and earthquake-linked glacier floods. This event is the latest in the COE's annual Where on Earth Are We Going? seminar series, supported by the Robert F. Schumann Institute of the College of the Environment.
Alton C. Byers, Ph.D. is a mountain geographer, conservationist, and mountaineer specializing in applied research, high-altitude ecosystems, climate change, glacier hazards, and integrated conservation and development programs.

The COE's annual Where on Earth Are We Going? Robert F. Schumann Environmental Studies Symposium has occurred on the Saturday of Wesleyan's Homecoming or Family Weekend every year since 2004. Each year's symposium focuses on a critical environmental topic and has brought to Wesleyan the people who are at the forefronts of these issues.