Looking for Commencement 2021?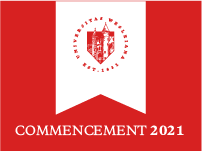 Commencement 2021
Congratulations, Graduates!
On May 24, 2020, Wesleyan community members from around the world gathered together (virtually) to honor the indomitable graduating Class of 2020. View a recording of the 188th Commencement Ceremony below. Keep sharing your pride on social media—#WesGrad, #Wes2020, #TogetherWes—and look out for a commemorative box of Commencement keepsakes, including diplomas, to come in the mail. We are so proud of you. Go Wes graduates!