The Davison Art Center is the home of Wesleyan's art collection, which is focused primarily on graphic art and photography. The breadth of the collection is equaled by its outstanding quality; exceptionally fine impressions by Rembrandt van Rijn and Francisco de Goya, rare early engravings, and important contemporary artwork by artists including Kara Walker and Jasper Johns are only a few highlights. The Davison Art Center supports teaching, learning, and research in its study room, and presents public exhibitions in its gallery.
Gallery is currently closed
Thursday January 2, 2020 - Monday January 2, 2023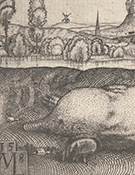 The Davison Art Center gallery is currently closed as staff are engaged in moving the collection to new facilities and in planning a new gallery.

In the meantime, we invite you to explore the Davison Art Center collection online and to return to this site for updates.

You may also support the Davison Art Center with a financial gift. Donations may be made through the Wesleyan University Friends of Arts and Letters, and you may direct your gift to the Davison Art Center specifically.