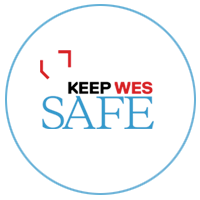 Spring Semester 2022 Reopening Update: Wesleyan has made changes to the spring 2022 semester schedule.

Keep Wes Safe
Wesleyan University is committed to fostering a safe and healthy environment in which every member of its community can thrive.
Because of the uncertainties associated with the trajectory of the COVID-19 pandemic, state and public health officials may need to change their policies. The guidelines here may be updated regularly.
Vaccinated and boosted visitors are allowed on campus and must follow the COVID Safety Guidelines.
Masks must be worn in all university buildings regardless of vaccination status.  The only exception is in private offices and residential bedrooms. 
Visit our Safety Guidelines page for more information.
Related Links
Frequently Asked Questions