Courses
Geology and Art
Lava flows and intrusive sills form northerly trending Ridges in Connecticut's Central Valley. These volcanic rocks were emplaced some 200 million years ago during the embryonic stage in the separation between North America and Africa.
Their present topography resulted from eastward tilting and erosion by massive glaciers that scraped the land during the last Ice Age.
Yale's geologist Benjamin Silliman described these hills as "composed of precipitous cliffs of naked frowning rock, hoary with time... an immense work of art." Nineteenth century artists, especially those that enjoyed the back-to-nature movement wholly agreed. Several famous painters such as Thomas Cole and Frederick Church eternalized the "mountains," as did many lesser known landscape artists.
The course will consist of an evening lecture and an afternoon field trip to the Hanging Hills of Meriden and New Haven's West Rock.
Instructor: Jelle Zeilinga de Boer
Two Days:
Tuesday, September 7: 4:30-6:00 p.m. in the Butterfield Room
Thursday, September 9: 1:00-5:00 p.m. off site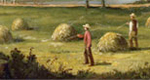 Jelle Zeilinga de Boer was raised in Indonesia, studied in the Netherlands, and has taught Earth Science at Wesleyan since 1965. His research concentrated on the tectonic evolution of active plate collision zones in Greece, the Philippines and South Central America. Lately, he has focused on the role geologic phenomena played in Greek mythology, specifically at the Oracle site at Delphi and Apollo temples in southern Anatolia. He has published Volcanoes in Human History (2002) and Earthquakes in Human History (2005) (both with Donald Sanders '52.) Stories in Stone appeared in 2009 and deals with the influence geology has had on Connecticut's history.