Courses
Picturing America: Highlights of 20th Century Photography
Join the Wesleyan Institute for Lifelong Learning and the Friends of the Davison Art Center for this short course on highlights of 20th-century photography. Sessions will discuss Alfred Stieglitz's promotion of art photography from photo-secession to modernism, the f/64 group including Ansel Adams, and street photography of the 1960's and 1970's by Garry Winogrand and others. Taught by Curator Clare Rogan, the course will meet at the Davison Art Center to view selected photographs in the collection.
Instructor: Clare Rogan
Three Wednesdays, 6-7:30pm
October 3, 10, 17
$70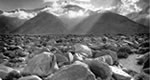 Clare Rogan
is curator of the Davison Art Center and an adjunct assistant professor in the art history program at Wesleyan. She teaches courses on the history of prints, history of photography, and museum studies. Her publications include articles on early lithography and German art of the early 20th century.