Courses
Machiavelli Revisited: Arch Villain, Immoral Politician, Father of Political Science?
Can one man be all of these and more? How did his name become synonymous with nefarious treachery and arguing that the end justifies the means? When did he become the face of political casuistry and Catholic deception? And all of this on the basis of a slim volume, called "The Prince", published about five hundred years ago, which few people have actually read. This course will examine this text and excerpts from Machiavelli's "Discourses" on Livy to address some of the questions raised, place them in their contemporary and into a modern context, and try to come to a nuanced understanding of Machiavelli's actual arguments and his significance to our thinking about politics, morality, and business. One might even argue that appreciating the power of this text is essential to an understanding of modern business and politics.
Instructor: Herb Arnold
Four Mondays:  4:30-6:00 in the Butterfield Room
March 26, April 2, 9, 16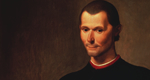 Herbert A. Arnold is professor of German Studies and Letters, Emeritus. After more than forty years of teaching at Wesleyan, including the MAT and GLSP programs, he is revisiting  some of his early research interests, including the European Baroque era, and continuing work on a biographical-historical investigation of Central European history in the 20th century. Most of his work in the past has centered on the intersection between history and literature in a pan-European context and his publications range in time and subject matter from late 15th century manuscripts to contemporary popular culture.