Courses
The Saturday Institute for Lifelong Learning Rolling on the River: An Exploration of the Connecticut River
A full day on the Connecticut River will include ample commentary on the history and ecology of the river, aboard the Riverquest cruiser. Commentary will describe the geology of the river valley, birds and fishes, and some history of shipping and commercial importance. There will also be discussion about the health of the river.
Instructor: Captain Mark Yuknat, Mindy Yuknat, Jelle deBoer
8:30-9am: Sign in at Riverquest dock in Haddam
9am-noon: Curise, with stops at Gillette Castle and Selden Island
Noon-1pm: Lunch, on board
1-4pm: Cruise, with visit to Connecticut River Museum in Essex (ticket included)
4pm: Disembark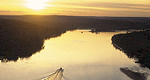 Captian Mark Yuknat has many years of experience as a captain on the lower Connecticut River and has a 100 ton master's license issued by the United States Coast Guard. He knows every nook and cranny of the lower Connecticut River and has a keen eye for spotting wildlife. Year in and year out, he has witnessed the changing river population as some migrate with the seasons and some have made a permantent home here.
Mindy Yuknat is the weekend and evening crew memeber of the Riverquest. She has a 100 ton master's license issued by the United States Coast Guard. Known for her gift of gab and love of nature, Ms. Yuknat makes sure that all passengers are comfortable, happy, and do not miss a thing.
Jelle Zeilinga de Boer is Harold T. Stearns Prof. of Earth Science, Emeritus.  He was raised in Indonesia, studied in the Netherlands, and taught Earth Science at Wesleyan from  1965 to 2005. Lately, he has focused on the role geologic phenomena played in Greek mythology, specifically at the Oracle site at Delphi and Apollo temples in southern Anatolia. He has published Volcanoes in Human History (2002) and Earthquakes in Human History (2005) (both with Donald Sanders '52.) Stories in Stone appeared in 2009 and deals with the influence geology has had on Connecticut's history.