Courses
The Nibelungenlied (Song of the Nibelungs) of Love and Death and Heroes
The Nibelungenlied, dated around 1200, is one of the greatest epic stories in the Western tradition; it not only features supermen and women in Siegfried and Brunhild, both quintessential demigods, but also presents a most powerful female human heroine, Krimhild, and a most exemplary medieval vassal (and arch villain) in Hagen. This poem has it all: an invincible hero killed by betrayal, a great love turned into implacable hatred, and a long-range plot for successful and total revenge unlike any in world literature. Historical reality, mythical figures and tales, and courtly invention are fused into one of the most memorable stories ("Lied" in medieval German) ever told. It was retold and transformed by Richard Wagner in his Ring of the Nibelung, but we shall focus on the original. One of the characteristics of the Germanic epic, unlike its Greek and Roman counterparts, is that all motivation comes directly and exclusively from the humans involved; no Homeric pantheon pulling the strings—here human agents create and shape their own fate.


Instructor: Herbert Arnold
5 MONDAYS: MARCH 24, 31 AND APRIL 7, 14, 21 | 4:30–6 P.M.
BUTTERFIELD ROOM, WASCH CENTER | $110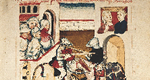 HERBERT ARNOLD is professor of German studies and letters emeritus. After more than 40 years of teaching at Wesleyan, including the MAT and GLS programs, he is revisiting some of his early research interests, including the European Baroque era, and continuing work on a biographical-historical investigation of Central European history in the 20th century. Most of his work in the past has centered on the intersection between history and literature in a pan-European context, and his publications range in time and subject matter from late 15th-century manuscripts to contemporary popular culture.