Courses
The Poetry of Memory: A Reading and Writing Workshop
This workshop will explore the richness of poetry by focusing on the poetry of memoir. My delight in writing poetry is similar to that of Stephen Fry, who comments: "I have derived enormous private pleasure from writing poetry and like anyone with a passion, I am keen to share it."
Unlike Fry, we will explore the tandem satisfactions of reading as well as writing poems. Frances Mayes calls attention to that dual emphasis: "Reading a fine poem makes me rediscover the freshness of creation. Writing a poem doubles, triples the experience that initiated it…. Poems give you the lives of others and then circle in on your own inner world."
We will note the ways poets use various forms and techniques to shape and distill memories for an audience. Each meeting also will include a brief writing exercise, taking off from the substance, form, or technique of a model poem. Oral sharing will model ways to begin writing, and highlight strategies for drafting and revising poems.
Keeping the poetry of memory as its center, out-of-class exercises will include reading and writing, and, depending on the group's preference, sharing of drafts online. Print and online resources for reading and writing poems, such as the books whose introductions are quoted above, will be available.
Stephen Fry, a British novelist and actor, wrote The Ode Less Traveled: Unlocking the Poet Within. Frances Mayes, of Under the Tuscan Sun fame, also wrote The Discovery of Poetry: A Field Guide to Reading and Writing Poems.


Instructor: Sheila Murphy
4 WEDNESDAYS: MARCH 26 AND APRIL 2 , 9, 16 | 10 A.M.–NOON
BUTTERFIELD ROOM, WASCH CENTER | $125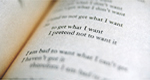 SHEILA MURPHY received an AB from Albertus Magnus College, an MA from Boston College, and an MALS from Wesleyan. She is a retired English teacher and a former co-director of the Connecticut Writing Project at University of Connecticut. She has led memoir writing and poetry workshops for her local library for Middlesex Institute for Lifelong Education (MILE) and for WILL. Her chapbook View from a Kayak in Autumn (2008) honors the memory of two grandchildren who died of spinal muscular atrophy. She edited Fair Warning: Leo Connellan and His Poetry (2011), a collection of essays about Connecticut's second poet laureate.